A Foray into the Future of Audio Platforms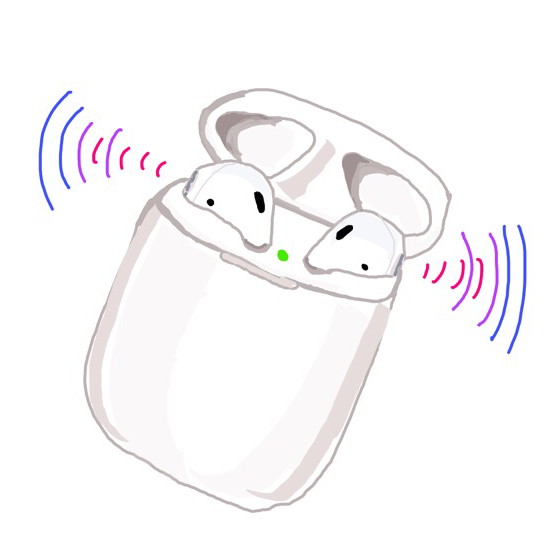 While the unveiling of Apple's AirPods at last year's September iPhone 7 event was met with both awe and meh, it's one of those products that you have to use to appreciate. Ignore the aesthetics and your assumptions regarding their audio output quality, and instead fixate on:
Wires into your ears, around your body, and connecting to your phone cause friction and annoyance in movement, can get snagged on things (especially when commuting on public transportation
Storing wired headphones is scattershot, and wires typically tangle more often that not, requiring extra time to detangle
Wireless headphones have historically not always retained a stable Bluetooth connection to your source device
Switching wireless headphones between devices for audio connectivity is not always intuitive or easily accessible
Dancing (or other energetic activity with full-body motions) with any kind of headphone is fairly unworkable
While all these points of contention are not deal breakers for any traditional (or even wireless) headphones or earphones, they do illuminate the possibilities of completely wire-free ear buds and new kinds of audio platforms.
Since it's been over a year since Apple and other companies like Bragi have released this new kind of earphone ("truly wireless" seems to be the current moniker for them), a lot has been said, written, and discussed about their usefulness and application. I've only had the AirPods for the latter half of 2017, but I'm ready to provide a perspective on them.
AirPods' Functionality is Fluid
Some perceptive technology writers have indicated Apple's master strategy with personal devices is shrinking and handing-off capabilities from one device to another in its ecosystem. Whether that will come to its full realization, the AirPods function exceptionally well today as truly wireless earbuds, and their bridge to Siri expands their convenient usefulness exponentially. Here's what I like about them:
Settings. Customization of both earbuds' physical tap actions (e.g., you can customize a double-tap on the physical exterior of either bud to pause music, initiate Siri,skip a song, etc.) is great.

Gestures like this could expand in the future, as Apple did update the ability to tap both earbuds separately for separate actions

Comfort. The AirPods fit is fairly similar to the original EarPods, though they are ever so slightly larger in the ear. I don't have a problem with the fit, and contrary to what you may assume, they do not fall out of your ears.
Lightweight. Hardly any heft to them. You forget they're in your ear.
Ear detection. Truly an Apple move — you pluck one out of your ear while listening to audio and the audio pauses automatically. Place the bud back in your ear and it picks up right where it left off.
Pairing with multiple devices. Sure, the W1 chip Apple incorporated into AirPods makes it very easy to pair with with your iPhone or other Apple device right away (you simply open the AirPods case next to the device and it pairs within seconds), but the behind-the-scenes cleverness of using iCloud to then also pair them with all your other devices from which you're signed into the same iCloud account is brilliant.
Speed. These are fast to use. Open the case, pop them in your ears, hear the "bing" noise, and you're good to go. Pluck them out, slide them into the case (magnetic attraction pulls them right into their slots), and slip the case in your pocket. No wires. No tangle.
Lightning charge. While a proprietary cable, they use the ubiquitous Apple Lightning connection to charge. If you have an iOS device, you have this cable (or several) laying around. It also charges exceptionally fast.
24 hours charge in case. The AirPods case acts as both a battery charger for the AirPods and their housing unit. Once charged, the case has 24 hours of life to give, plus the 5 hours of life the AirPods hold themselves.
One-bud Use. That's right. You can use one bud at a time, with mono audio, to make calls or listen to music while you give your other ear some breathing room.
The Current Limitations to AirPods
The AirPods aren't without issue, though I must say for a first generation Apple product, it's about as good as it gets. The last time they nailed an accessory so well the first time was probably the original AirPort WiFi router. Here's a list of things I've noticed after using them for several months that derail them from perfection, but could be iterated via improvements in future versions.
Sound isolation. EarPods weren't great at this, and neither are AirPods. You can easily hear noise outside these earbuds quite easily, and commuting on a train nearly defeats the audio output in your ear lest you crank the volume up to unreasonable levels.
Lack of physical volume controls. This is by the far the most annoying part of the AirPods. I loved having a remote for volume, pause/playing, and Siri on previous EarPods models and some other earphones/headphones I used in the past. This is a first world problem, though. Volume controls on your device control them just fine. You can use Siri to control the volume, but this is impractical and slow more often than not. But if you have an Apple Watch, the auto-face change on it usually provides volume controls if you're listening to something, and this is the easiest way to remote control them.
5-hour battery life. I've never run them dead before, as I usually am not listening to them for longer than a few hours, but five hours is a limitation for longer flights or extended activities using them. Of all the truly wireless earbuds, though, the AirPods have the longest battery life (as of Dec 2017).
Sharing audio. While you can share an AirPod "bud" with someone else to listen or watch the same device's media, you can't pair two AirPods to the same device and output the audio simultaneously (which is, granted, an annoying technological limitation for any wireless headphones — dual audio output to two headphones listening to the same iPad on an airplane, for instance, is a drag).
Overall
AirPods are my favorite Apple product of the last few years, and have already become my second-most used device next to my iPhone. They are great for music while quietly getting ready in the morning, the perfect companion for my morning commutes listening to The Daily and The Intercept, and a pleasure to pop in for the evening jaunt home listening to whatever's left in my podcast queue. I'll even slip them in a few times during the day at the office to catch a quick track or two while cranking through emails. While I prefer using my Bose QuietComfort 35s when flying (since they cancel out the miscellaneous noises in-flight), I have used the AirPods a few times with the wife while traveling and watching a movie together, and they work just fine as long as the volume is cranked.
Highly recommended.
You can pick them up at [Amazon for $160][4].
[4]: Apple">https://www.amazon.com/gp/product/B01MQWUXZS/ref=as_li_tl?ie=UTF8&camp=1789&creative=9325&creativeASIN=B01MQWUXZS&linkCode=as2&tag=defiantsloth-20&linkId=76af9f38be545719752102cb8b5a61bc">Apple