First, Some Background
After stumbling upon these ingenious (maybe? Let's give it a few months) shower storage designs from Tooletries, I ordered us up a kit. These objects are useful, practical, and excellently designed. I don't know how long I've been looking for add-on shower storage that doesn't suck (not long, let's pretend), but it's probably been ever since I had my first apartment in Chicago. 
In the beginning... I came across a decent piece of tech from Simplehuman at Target several years back, and while it worked great, it had a few glaring issues that most of this equipment does:
It was cumbersome due to its constrained design and necessary adherence to the front of the shower below the shower head

As such, it hung off the shower head (which is fine, but it assumes you want your kit right in front of you under the shower — where plenty nastily-accumulating drippage happens); if you have a ceiling spout, obviously this doesn't work.

The heights of the shelves do not accommodate all kinds of bottles and shower items you may have on hand, particularly anything 8oz (big buys from Costco won't fit, unless you have room at the top near where the head hanger is). You don't have to use it for bottles, but the shelf design assumes you'd be doing this, so...

The grated shelf system isn't ideal for storing smaller items like razors or bobby pins (in my wife's case), as they are wont to slip through the aforementioned grates. You get it.
These issues stack up to what I'd consider important checklists for shower storage in any context. You want it to accommodate key items (granted, shampoo/soap/conditioner bottles likely are always going to be troublesome). You also want it to be positioned where you're going to need it based on how you like to take a shower. All showers are different, I imagine. You don't even know how I shower, but still, let's just say.
Enter Tooletries
Get over the pun name. It describes their goods accurately. To be honest, it was difficult to dig up any kind of background on this company. It was recently curated by Huckberry, which I consider a legitimate outlet for discovery, so I'm confident it's coming from a trustworthy source. But their site is half-baked, with several missing pieces of content (like FAQs and a proper list of their global stores). If you can get over this aspect of the product's parentage, I guarantee that the goods themselves are rock-solid.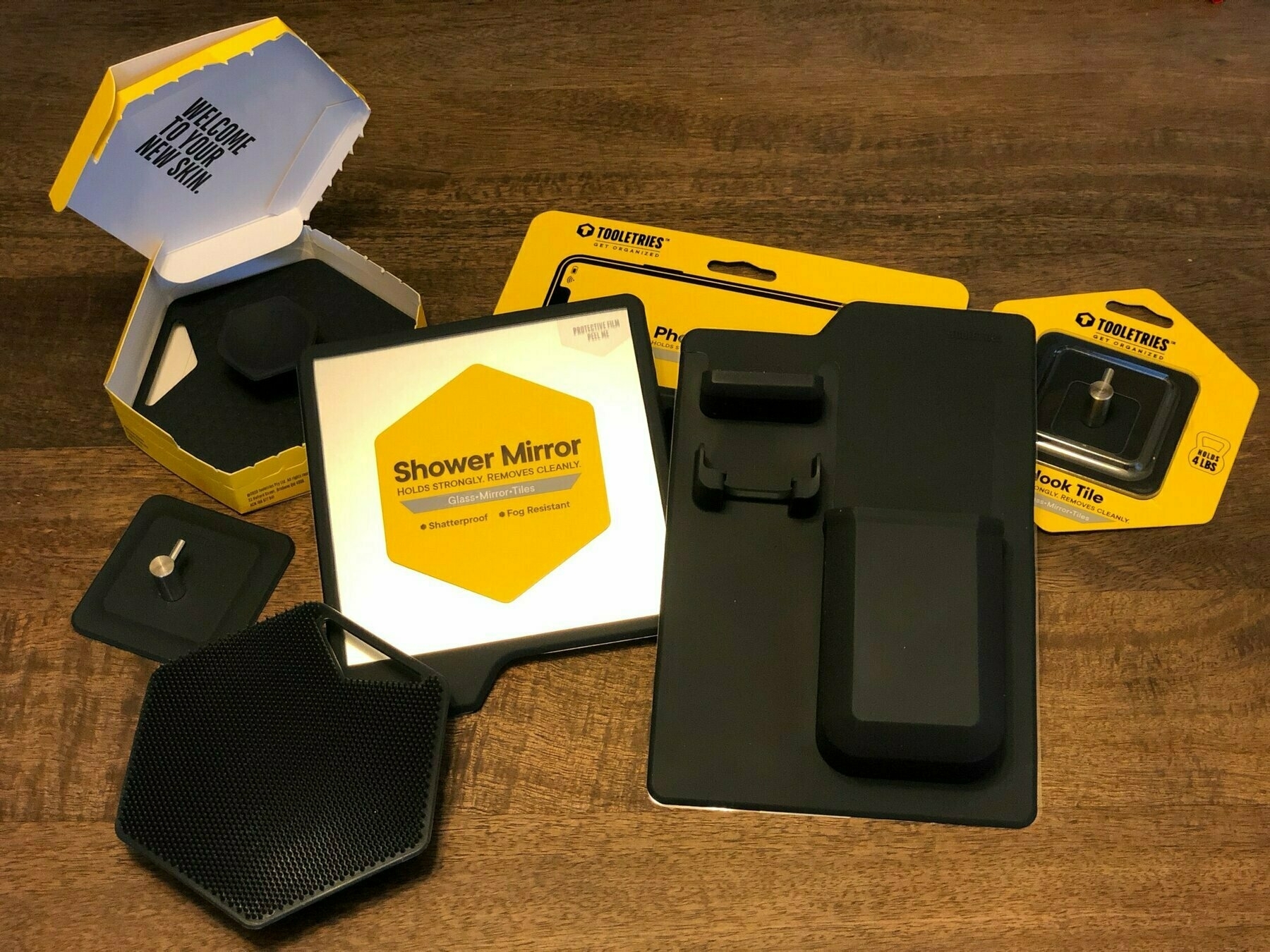 Their admittedly stale, male-oriented mantra is about believing that a bathroom is a "sanctuary" and a "place of calm and serenity… free from chaos and disorder". Sure, I can agree with that, and I'm sure every gender could, too. What's not stale is the design integrity behind these pieces. And whole thing doesn't work without their 100% antibacterial silicone, extremely-adhesive sticking surface, and thoughtful design like anti-fog mirror and shelf drainage holes.
Let's take a look at the kit I bought, and I'll walk you through this.
Harvey & Oliver Set
Available here ➔ The Harvey and Oliver Set
I don't shave. At least in the traditional sense. I use an electric razor on my haphazard bullshit beard, and I don't do in the shower lest I get electrocuted. Which means this part of the kit is for my wife, who does shave, and like many, I conjecture, does it in the shower.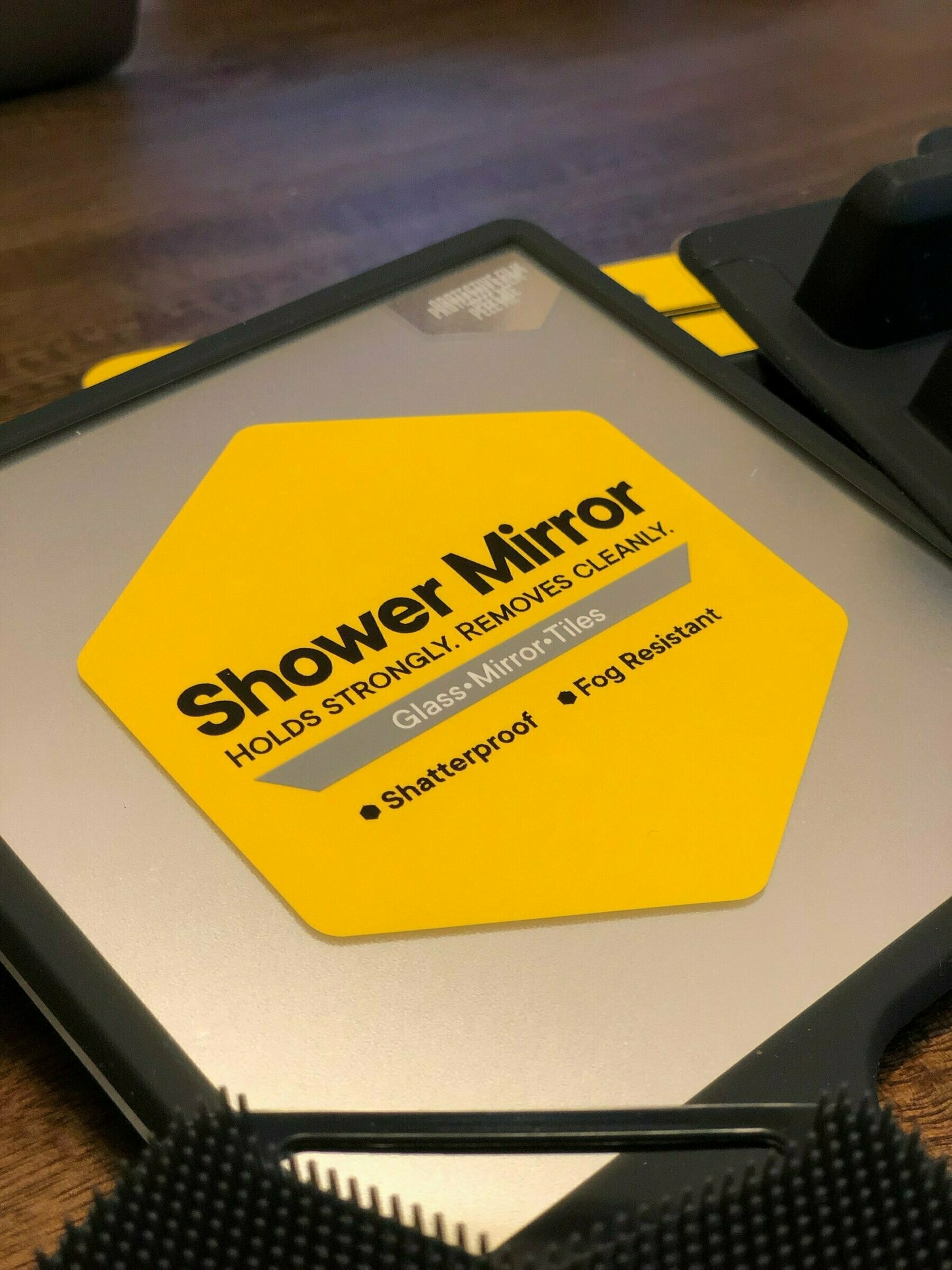 This might be the least impressive of the Tooletries items, but certainly serves a functional purpose if you need it: 
It holds a traditionally-designed razor (my guess is it'll fit 95% of them in it's cubby drop-down holder), and also has a little rest for an extra razor, too. Which I suppose is convenient.

It also has a deep pocket for perhaps some kind of shaving cream or tube of something related to shaving or other shower antics. Honestly, it's not a great shape, and would really only fit a 2-3oz lithe tube of liquid, nothing fatter. I've brushed my teeth a few times in the shower, and I'll park my toothbrush in here between finishing and getting out. It's about that size.

The mirror is cool. I've never had a mirror in a shower before, and while its use is limited (what would I honestly be doing that requires looking at myself... is extremely limited in a shower context). But, having it adds a surreal element to the daily cleanse (at least in these early stages). Maybe its use will manifest itself down the road. I don't know. Either way, I'm keeping the fucking thing in there.
Body Scrubber & Hook
Available here ➔ - Body Scrubber and Hook
By far the most effective tool in the collection. I ordered two (one for my wife, one for me). Same two-toned options. 
These things stick as well as the rest of the kit, and provide the (likely) most used component. They operate as replacements to loofahs or hand towels, whatever your previous preference in body-washing. Lather the soft-spiked surface area with body soap of any kind, and comfortably hold the joystick handle to apply the region across yourself while showering. Simple operation.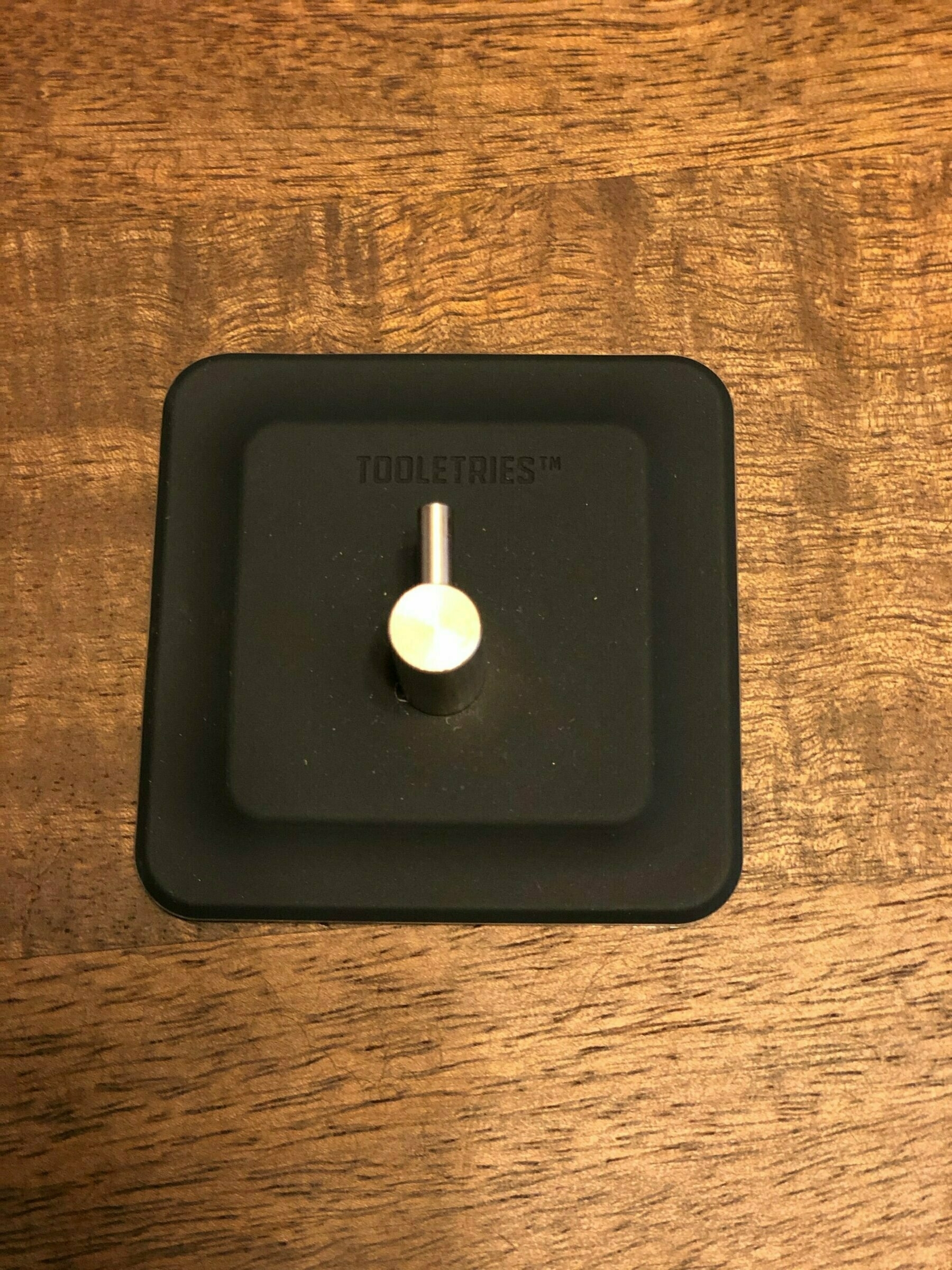 The surface area, while significantly different than a loofah's swirly mess of fibers, does feel different at first: its areal spikes, diameter-y plane of existence is a combination of a towel and a loofah, and it makes perfect sense. Easy to rub that soap everywhere. It causes a bit of friction, which in my unprofessional observation, helps with sloughing off dead skin and priming the epidermis for some lovely cleanliness. 
Phone Holder
Available here ➔ - The Phone Holder
Yeah, this was a hesitancy buy. It's weird bringing tech into the shower, but if the acoustics of your bathroom aren't great (how many actually are?), then listing to music or podcasts is best with the phone with you. And since many modern devices are water resistant or proof, this is an obvious choice.
Its design is hefty — never once have I felt that it wouldn't hold my phone's weight. Its design suggests you lay the phone horizontal along its shelf, but you can flip it up vertical. It holds either way. In our paranoia, we usually stick a little piece of TP on the camera lens, but depending on where you place the Phone Holder, superstitious prying eyes probably aren't going to be gazing at you easily. 
Anyway. This was a good addition to the core kit. Fits in nicely with the rest of the pack. Provides a nice use in the morning or evening if you're catching up on podcasts or looking for some soothing tunes to wake or subdue you. 
In Summary
I recommend the purchase(s) if you want to invest in something like this, haven't found the right shower kit, and/or if the two-toned options match your shower aesthetic. The sticky mounts do actually work without having to permanently nail anything into surfaces that will rile up your anxiety. These pieces are functional, washable, and — hey! — movable, meaning you can constantly readjust their location. How about that. Flexibility.