These past several years, I've been bouncing around a few technical-fabric apparel brands, seeking well-built, solid uniforms with thoughtful quality materials. It hasn't been difficult to find dozens of niche brands filling this space. But only Western Rise has fit the bill perfectly across all components of a minimal yet complete wardrobe.
My first foray was with Outlier, a New York brand drenched in radical ideas for hardcore fabrics, construction, and style. They've gathered a cultish following over the years, and their product line has ebbed and flowed, most dominantly from their iconic set (merino wool tee with slim dungaree pants), to such wildly idiotic inventions as the strongwool hide. Their pants are great. Their shirts are inventive (I really like my ramielust tee for summer temps).
I also dabbled in Ministry of Supply, whose mantra is maintaining an inventory of manageable clothing backed by science. So instead of referencing various ways of washing specialty fabrics (like Outlier), Ministry of Supply focuses on machine washable approaches to everything, even though they are heavy on technical, breathable fabrics. I picked up a great merino tee from them a few years ago, and have been sporting their perfectly-designed kinetic blazer for work/travel.
The brand that has aligned with my clothing preferences the most is an outfit out of Colorado called Western Rise. Their color sets are simple and consistent (blacks > blues > grays > greens), their catalog is tiny, but thoroughly meets the needs of a weekly and multi-functional uniform, and the fit of their clothes is better than anything I've had ("tailored," but comfortable).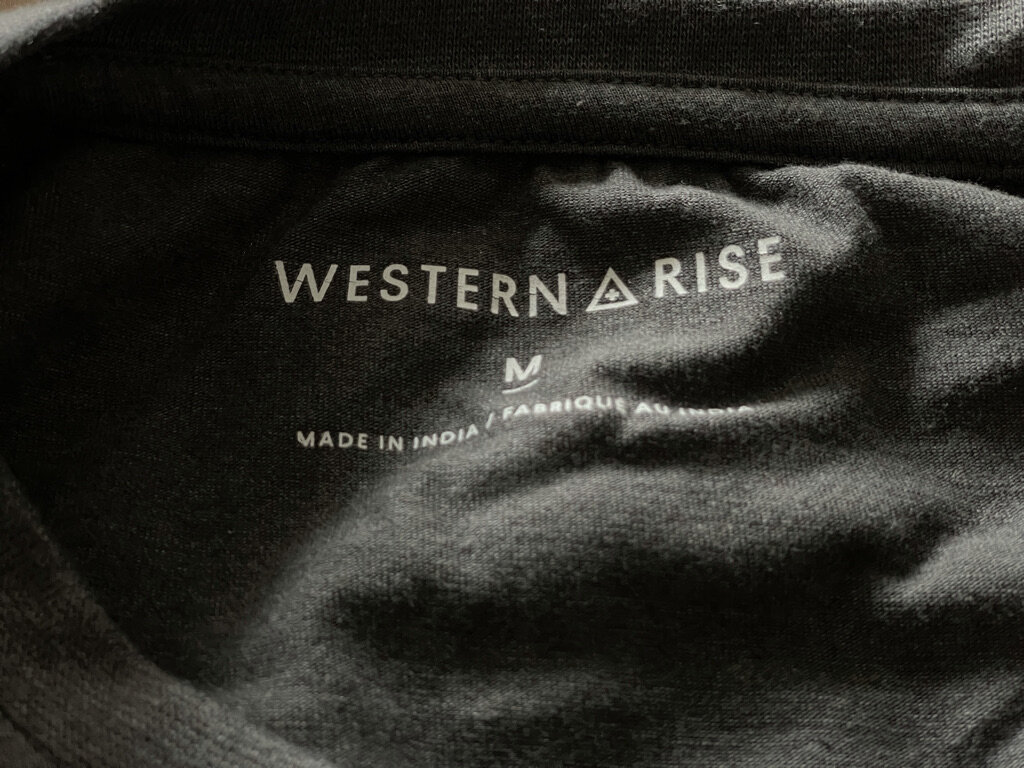 Over the last year, I've picked up a few staples that have dominated what I wear day-to-day:
This was my first Western Rise purchase. I went for blue gray, a color perfect for matching the rest of their color spectrum.
Right off the bat, these things fit wonderfully, true-to-size (they run S, M, L, you can target a size accurately since they have a cinched waist). Their 4-way stretch is incredibly pliable, the comfort is high, and the water/stain resistance is a major bonus. And as with most (all?) their products, they've very breathable, which makes them suitable for spring/summer wearing in the heat, and function stellar for things like kayaking (with quick-dry properties). The primary pockets are massive cavities, which is in most cases a good thing, but I tend to use the left-leg zippered pocket for my iPhone since it sits awkwardly in the larger primary pockets. The cinch tie and zipper pull on the side pocket are capped with tightened wax, which is 🤌.
The range you can get in these is incredible. They look nice enough to go out for a drinks, flexible enough to work out in on a cooler day, and comfortable enough to WFH in (or, sure, work in the office). I'd buy more, but this one works so well and resists the need to wash frequently, the value of one is more than enough.
This jacket is brilliant. It's super light-weight, comfortably manages temps anywhere from 30 Fº-55 Fº, has great side-slit pockets + a hidden inner zipped pocket + chest-flap pocket, and the fit is superb. Somehow you can manage to wear a tee, sweater, hoodie, or any combination therein, and the jacket doesn't constrict with the layers. Perhaps it's the leeway in stretch, perhaps it's just magic.
I've been wearing this non-stop in Minnesota's wildly fluctuating spring temps, and haven't had to break out a rain coat or a winter jacket for any of it. The AirLoft Shirt Jacket is a great use-case for this weather spectrum.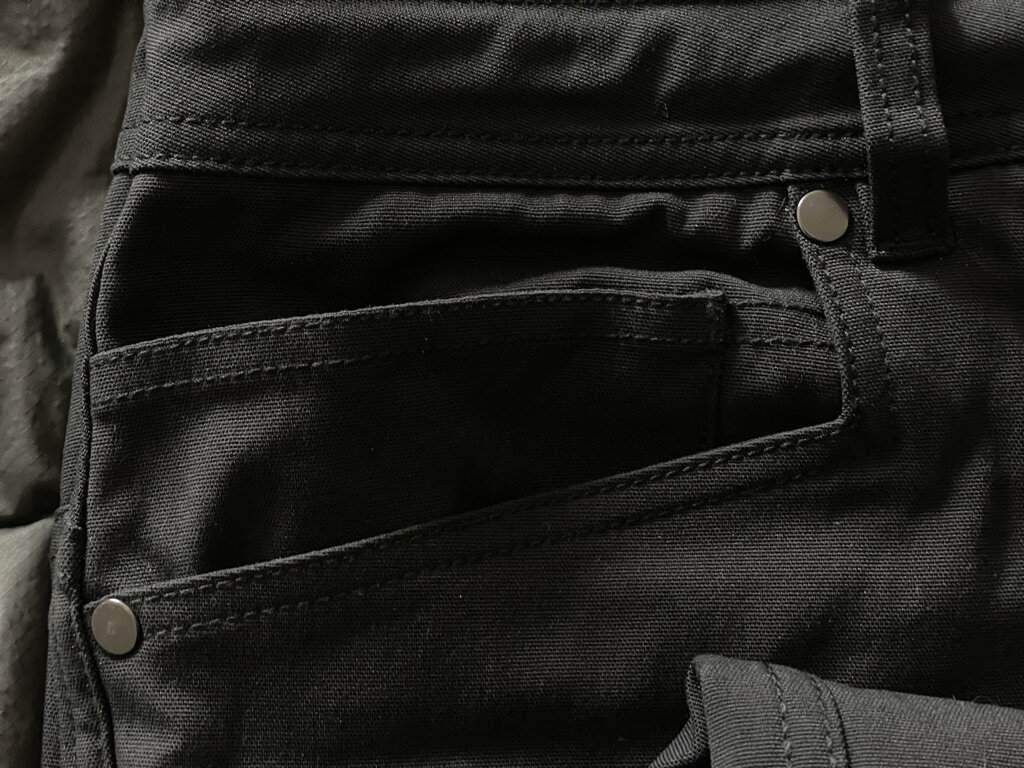 This truly functions like their claim — it's the jean "re-imagined". This one does a better job of feel/fabric mimicry than Outlier's Slim Dungarees (and has less of the slick-feel, which, depending on what you like, is a positive or negative). The AT Slim Pant does have a minimal technical fabric noise as you move in them, but it's part of the deal.
The fabric is heavier in the sense that it is more substantial than the other pants I've worn from Western Rise. It's not a heavier weight, but it feels more rugged, durable. These can take a beating. Like jeans.
A few bonuses to this vs jeans is that they are much more breathable, have a two-way stretch (which, admittedly, isn't obvious), and they also are water resistant (tried it, and it's an accurate claim). They also claim stain resistant, but I haven't had the accidental pleasure of running into issues there yet.
The one thing I've noticed about these and the Diversion pants are that they have some curious pockets. Main side pockets are great, completely adequate in size, and both have the "fifth" mini-pocket that isn't so mini on the right-side — it luxuriously fits an entire smartphone (iPhone 12 size tested here). While great, a fully-lined device in that pocket does constrict hand volume in using the primary pocket. Additionally, they have a secret zippered pocket on the back-right side, which is kind of a meh for me, but could be a blessing for others who still put a wallet in their back pocket. I could see sticking a $20 in there, and no one would be the wiser.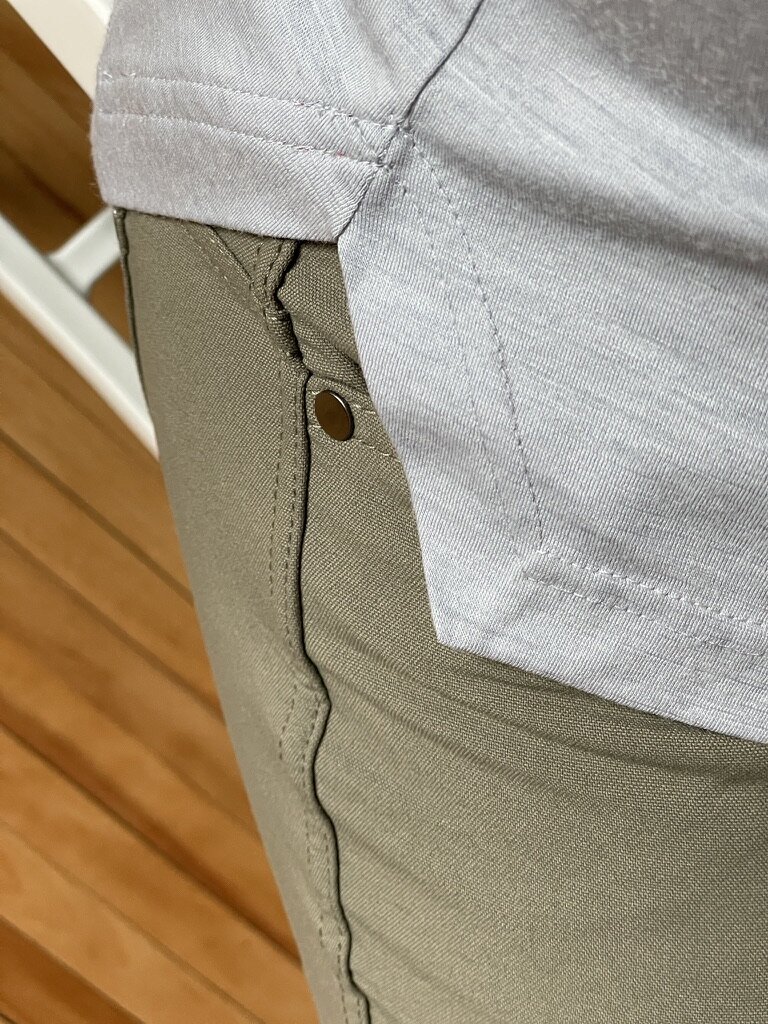 Extremely comfortable material (I'd argue even smoother, stretchier than the Spectrum Joggers). This is close to a default pant to wear day-to-day, but my only point of contention is that they run tighter and stiffer at the waist compared to the same waist size in the AT Slim. It's almost enough to encourage a size up.
Other than this, it's a near-perfect pant. Probably most suitable for an everyday chino/jean replacement, will operate as a great travel pant, and can be dressed up or down. As noted, it's got the 4-way stretch that adds immeasurable comfort to the wear and movement. Same water/stain resistance as you'll find in nearly all their products, and it's similarly breathable. It's been fine in cooler temps, and while I haven't had it for warmer months yet, if it's anything like the Spectrum Jogger, it'll be perfect. Cold sub-zero days may require a switch to the AT Slims.
Limitless Merino Button-down Shirt
I continue to wear a few really functional button-up shirts from Bluffworks, so there was some hesitancy in trying a new type of travel-worthy, wrinkle-resistant button-up/down shirt. Of course, I'm glad I did. Western Rise's take on this is great, starting with the differentiated material. Instead of Bluffworks' 94% polyester/6% spandex blend, we're talking nearly full Oxford knit merino. It has a welcome multi-way stretch, breathable material, and is surprisingly light-weight. As with nearly all merino, the material resists odor for days, meaning one may be all that's needed for a quick business trip.
The shirt design looks classic, fits tailored, has collar buttons for slinging a tie through if needed, one breast pocket, and doesn't run too long, so you can tuck it or wear it over the pant line, no problem. Bonus: these pack very tight, so there isn't much additional volume added when traveling minimally.
The only minor grievance I have is that the lower button on the two shirts I've got has a tendency to undue itself. This is hardly a complaint, but something I've noticed in the daily wear. It's probably my fault 🤷‍♂️.
Hunting the best tee is a never-ending quest. I'm happy to report that Western Rise has a formidable contender in the Cotton X Tee. Solidly constructed, heavyweight but stretchy as hell, and magically odor resistant (tested for several days), the this thing over-performs. The blend is 60% cotton, 35% polyester, and 5% elastane, creating a sweat-wicking, quick drying material that is pleasant on the skin and hyper-wearable. If I could only wear these every day, I would.
The merino tee is a much sought-after holy grail of shirts. While I haven't had the opportunity to try many, the travel/minimal packer/one-bag scene is ripe with recommendations that merino is the only way to go. Odor resistant, strong fibrous weaves, super soft feel, quick dry properties — this is what merino aims to provide. If you're only able to fit one or two shirts into your luggage, make it merino.
Western Rise's product here is good. It's an 18.5 micron single jersey cut, which means very breathable, very light, and dial up or down on keep you warm/cool depending on the weather. The fit is a tad looser than the equivalent size in the Cotton X Tee, which may just be the way they've decided to code this due to the fabric. It also runs longer than your typical tee, but drapes nicely. The length doesn't make a ton of sense to me, but I suppose it works well depending on your torso, and it should be noted that there's a decorative cut on the sides that adds some dynamism to the composition.
Overall, this works exceptionally well. The quality is high, it packs insanely small, and it'll probably last a long time.
~ 👔🤑👖~
If you're interested in trying Western Rise, you can get $20 off your first purchase — here's an affiliate link (full disclosure) to do so:
Otherwise, simply check out the site with any of the product links above. You can even try at home for $0 with their Try Now integration.
Good stuff.