You never really stop seeking out the best a locale has to offer when it comes to coffee. Ever since moving to Minneapolis-St. Paul nearly five years ago, I'd been enjoying — but also on the hunt for — the best coffee the Twin Cities has to offer.
The good news is there's plenty to choose from, whether it be Spyhouse Coffee (the original craft coffee roaster here, from my understanding), the stellar Five Watt (extraordinaires of funky, delicious coffee cocktails), Dogwood (the stalwart choice when you're spending time in a great neighborhood drag), Claddagh Coffee and their old-school trusty vibes, Wildflyer Coffee (with their humane mission to employ and end youth homelessness), or hey, even Bootstrap (well, 'Backstory' now) when you're in St.Paul's west side.
The better news is, when it comes to craft, there is a good argument to be made about SK Coffee being the best.
SK Coffee has something magical going for them. They opened their first spot in the Vandalia Tower in St. Paul (kudos to them for choosing St. Paul to start their franchise), located right in the middle of both cities. They also recently opened a Whittier location in Minneapolis, but I haven't had a chance to visit it yet.
Its St. Paul cafe is a bright, breezy space that operates as the preferred entrance into the commercial building, punctured by an 'SK' neon sign, lounge chairs, long tables, and colorful bar stools tucked cozily at its counter. They also stock house plants in a corner (that you can buy), and feature a rotating bakeries program from some of the best in the Twin Cities (I've seen them sport Marc Heu, and more recently, Vikings & Goddesses). The intentional inclusion of great bakeries should tell you that they take exceptional care in not only the servicing of coffee, but equally in the supplemental fika that pairs alongside it.
In short, it's a cafe that definitely has a more "stay awhile and sip" vs "get a quick fix and leave".
Of course, we came for the coffee, so let's talk coffee.
Owners Sam Kjellberg and Nate Broadbridge bring serious experience and meticulous roasting to the table, cut only by a colorful casualness that's accentuated by their delightfully off-kilter packaging. (Also, I love that they highlight the whole team on their Team page -- great to see the whole crew that brings this brand to life.) They hold a fantastic line-up of default, standby coffees and craft, limited releases, which I feel is a great balance of simplicity for go-to reliability of options, ranging from the stellar, chocolatey washed Peruvian bag, to the fun, passionately collaborated farm releases like the recently sold out Cryomaceration from Finca Gascón that bangs with jammy flavors I've honestly never tasted in a coffee before.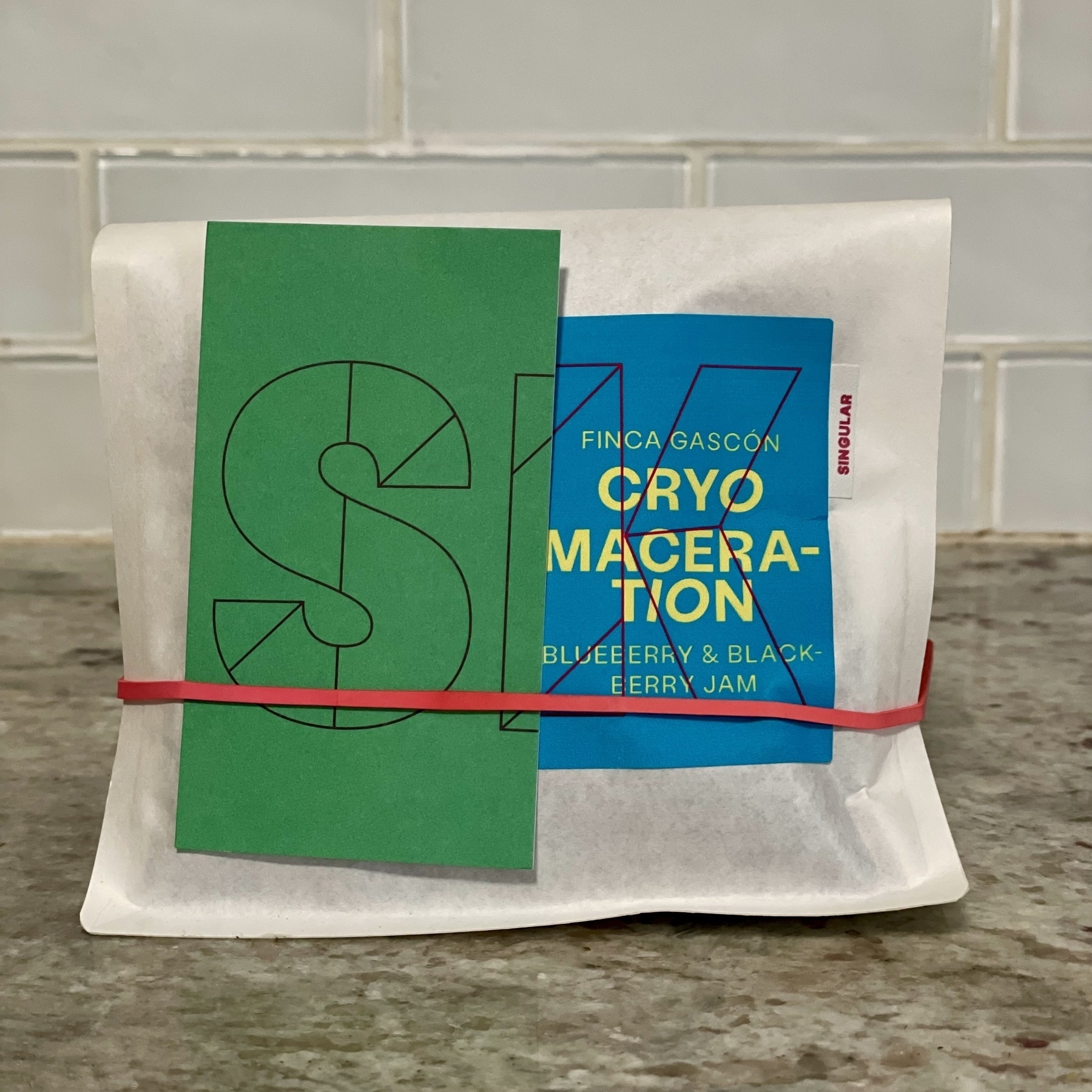 Part of what makes them special is a great flavor profile series that they plug into as they refresh and roast their beans, which include smooth, sweet, bold, unique, and rare. Sure, other coffee shops categorize similarly, but the accurate descriptions that accompany several of the bags (as an attached card) really do reflect the intricacies — those unique, fruity ones are so surprising and smell so incredibly good in the morning, it's irresistible to order them again and again. This was the first line up of coffee that had me intentionally drifting away from my usual light roasts (mostly nutty in favor) in favor of the more fruit-forward options.
With such a deliberate approach to inventories and selection, they of course offer a few great ways to indulge their varietals in the form of "clubs":
Membership: An annual fee-based option that grants the member a percentage off their manually-placed orders, and also grants first pick for special coffee projects, events, and micro-lots.
Subscription: More of the traditional direct-to-consumer model of a monthly fee that nets you an automatic quantity of coffee bag(s) delivered to your door.
There's also a third option they are exploring (as of May 2023) called Farm Gate Club, which they explain:
"Farm Gate Value" refers to the market value of an agricultural product minus the selling costs (shipping, tariffs, etc.). Our vision is to create a "buying club" or CSA, of sorts. This club will connect the "consumer" more directly to the source. In addition to experiencing economic intimacy with the producers, we will explore producers' most experimental lots, encouraging continued development in the industry.
Overall, SK Coffee provides tremendous value on all fronts -- cafe, food curation, coffee product, and membership clubs. These demonstrate competency and confidence in what they're putting together, providing something truly unique in the midwest, and delivering consistency that encourages continued investment in their coffee program.
You can visit their locations below, their site here, and follow them on Instagram here.
☕