It's been a while, but I'm back at the wallet reviewing game. This time we have a marvelous new entry with a fresh material concept that hasn't been represented in many of the slim wallets I've tried over the years. It's also a bifold wallet, which aside from a few Bellroys, is not a particularly popular build choice when it comes to slimness targets. The good news is: SlimFold Wallet delivers despite a couple design peculiarities.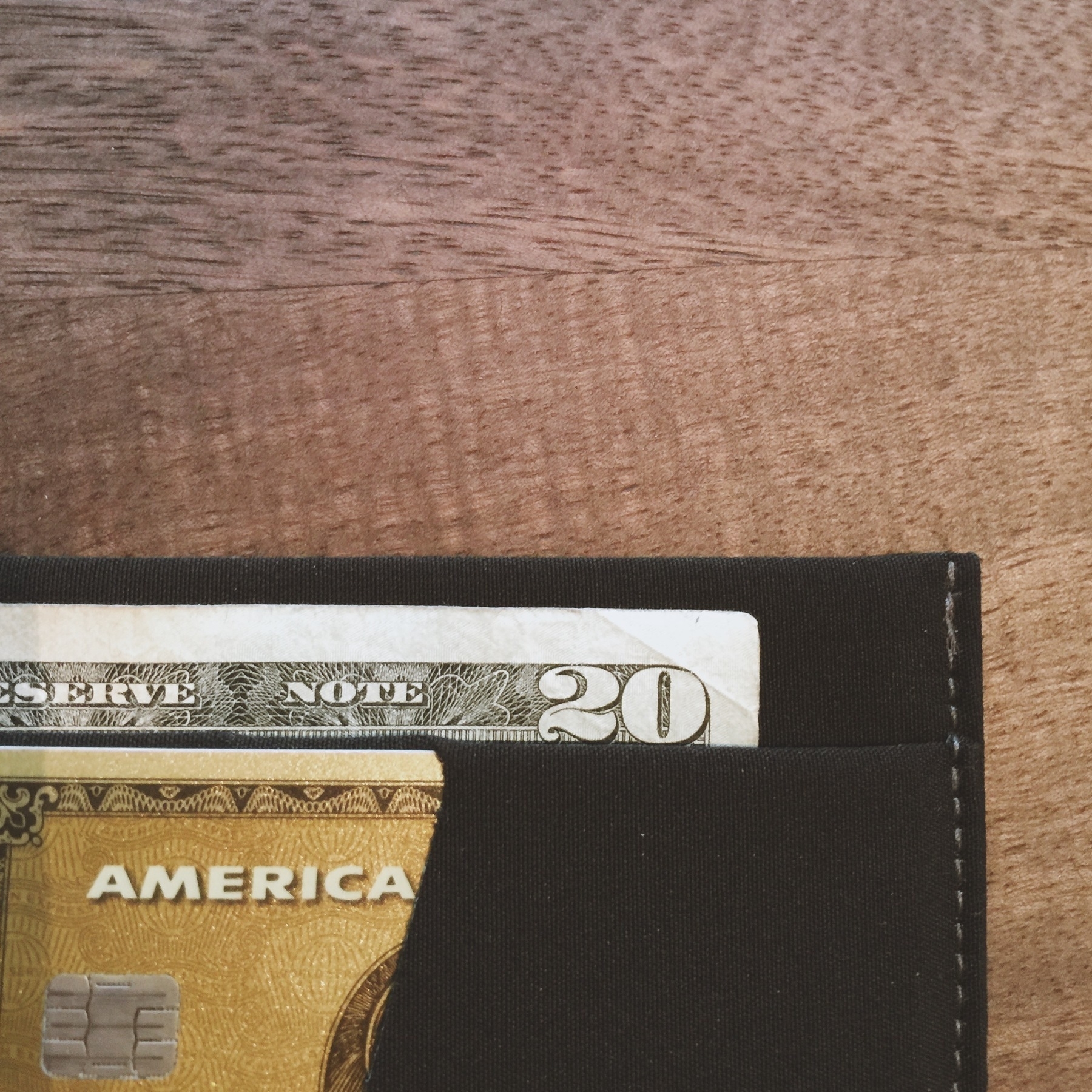 Design & Utility
The SlimFold Wallet arrives in a sealed plastic slip. This is the first of any trendy wallet I've seen arrive in such packaging, and it was a bit off-putting. Cheap, plastic wrap with a peg hole under-represented the wallet as uninspiring; it could be hung on any department store shelf like the rest of them.
Opposite the front of the packaging, the insert inside the plastic stated a number of SlimFold Wallet tentpole features, including its thinness ("3x thinner than leather; fits in your pocket"), lightness ("2x lighter than leather; reduces bulk"), and strength ("crash-tested; 100% waterproof"). In addition to all its compelling features, the material is also machine washable.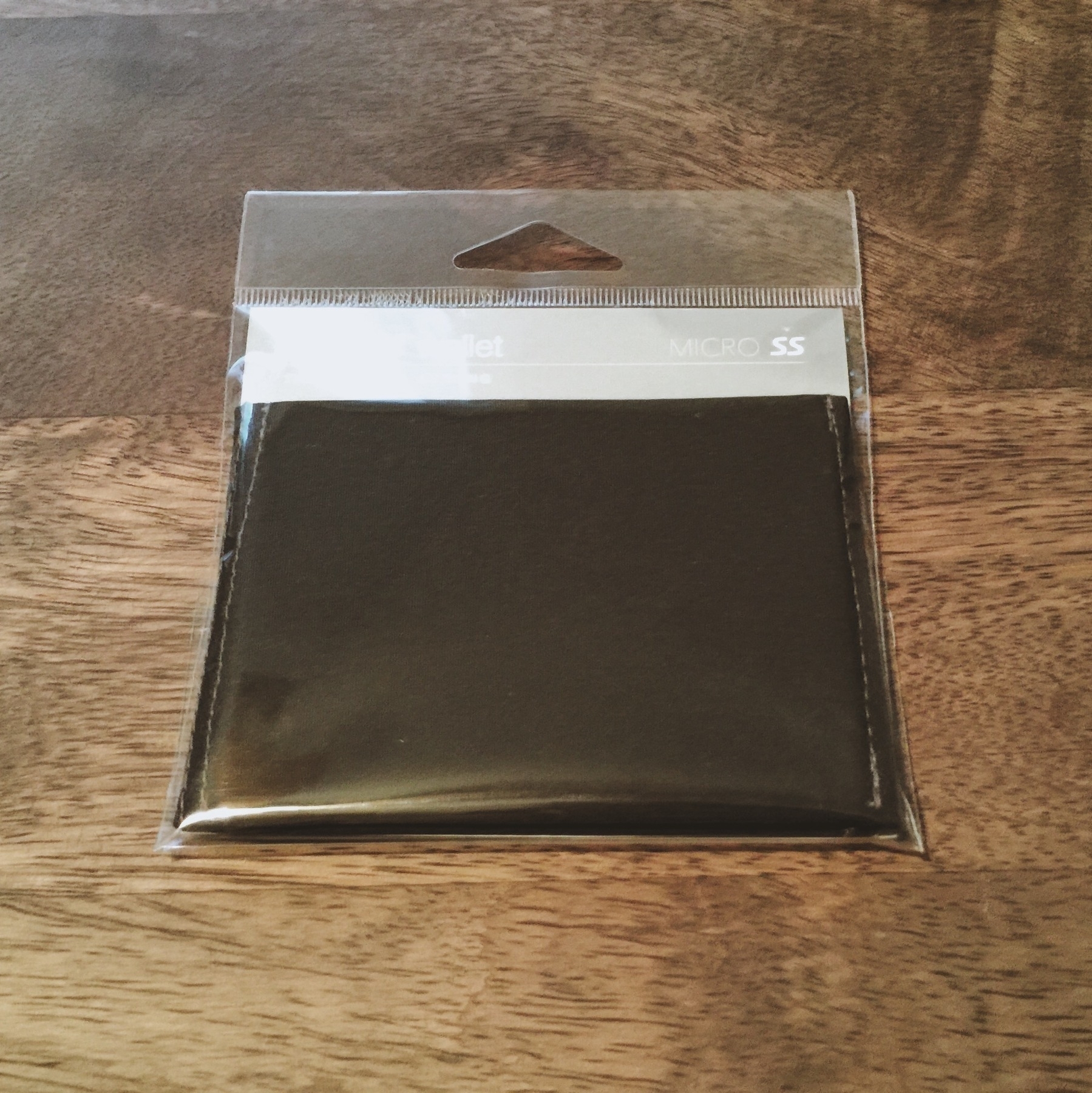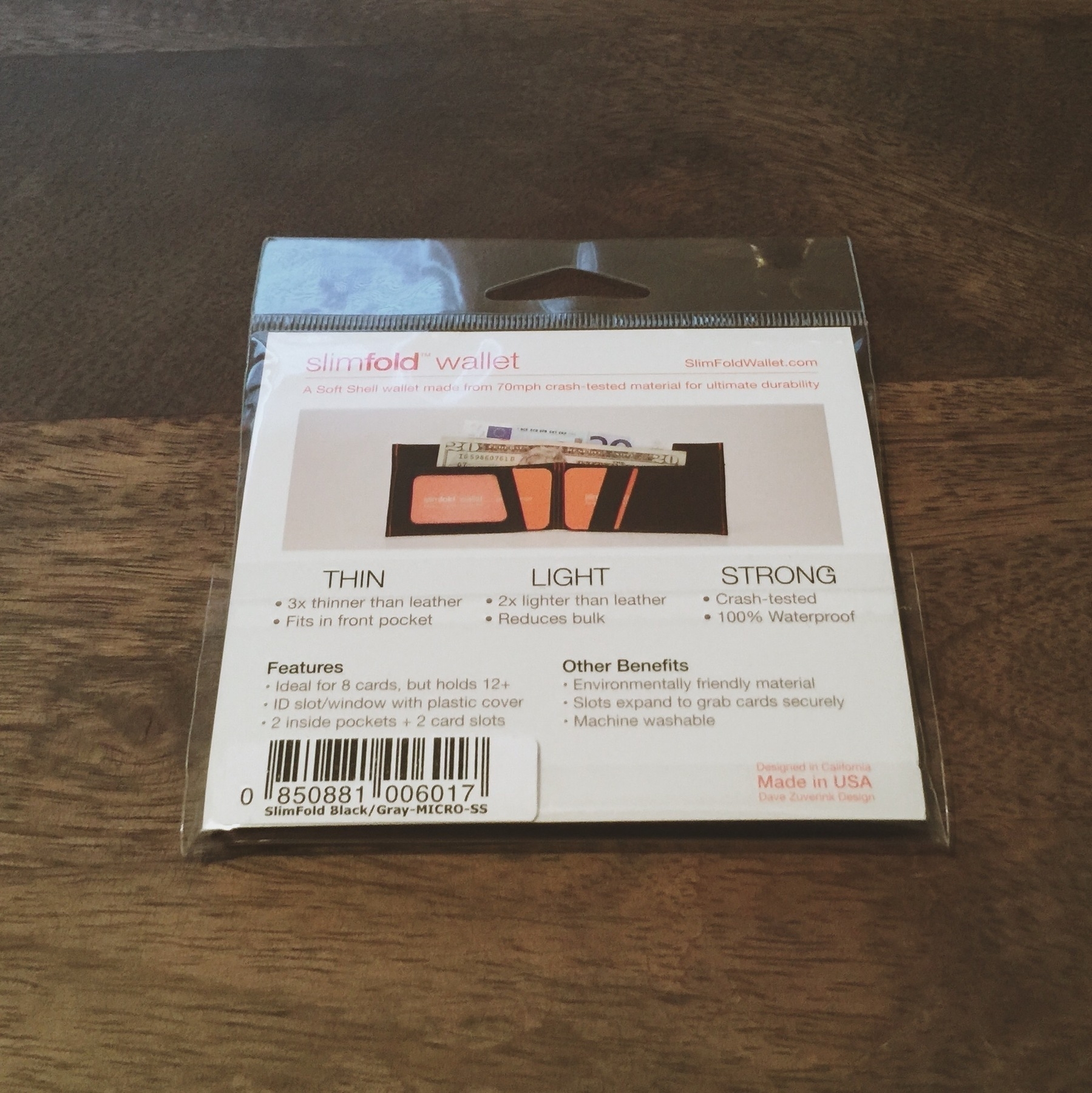 Great. I'm intrigued.
Plastic packaging aside, these were features I hadn't seen unified into one wallet before. My current go-to wallet, the Trove, is wrought from a thick elastic band paired with leather. While a fantastic wallet, it's definitely not waterproof, and I certainly wouldn't wash it in a machine (or by hand). In contrast, the SlimFold Wallet material used is also lighter and thinner than any of the elastic-band based wallets I've tested before it. For all the compactness of the Trove and Supr Slim wallets, and even though the SlimFold Wallet is bifold, its standalone material is thinner and lighter.
When you pry it from its casing, the wallet is surprisingly light and compact. It also opens and lays completely flat, which is an affordance I'd never seen before in a bifold wallet. The wallet's composition is built from one long piece of thin, fabric-like material (they call it Soft Shell), and stitched and cut together in a clever way. There is one opening for full bills (no more quad-folding my dollars like an idiot with the Trove, one "ID slot/window" with plastic cover on the left side, and two slide-in slots on the right side.
Since the material is so thin and light, the designers decided to reinforce the wallet with plastic inserts against the back wall (where you can store either cash or more cards). Optically, these inserts don't draw attention to themselves, but feeling them and knowing they're there makes the wallet feel jankier than it is. You can remove them, but the wallet begins to look and feel like a deflated balloon, mostly because the inserts keep the wallet a certain size and regality, and without them, the top of the wallet flimsily folds over the stronger, card-enforced body. With both inserts in and the wallet loaded in all its slots, the wallet does not open as naturally (or as wide) as you'd expect when looking to pry out dollar bills, and it no longer lays as flat when closed. But with a reasonable number of items in there, it looks and sits just fine.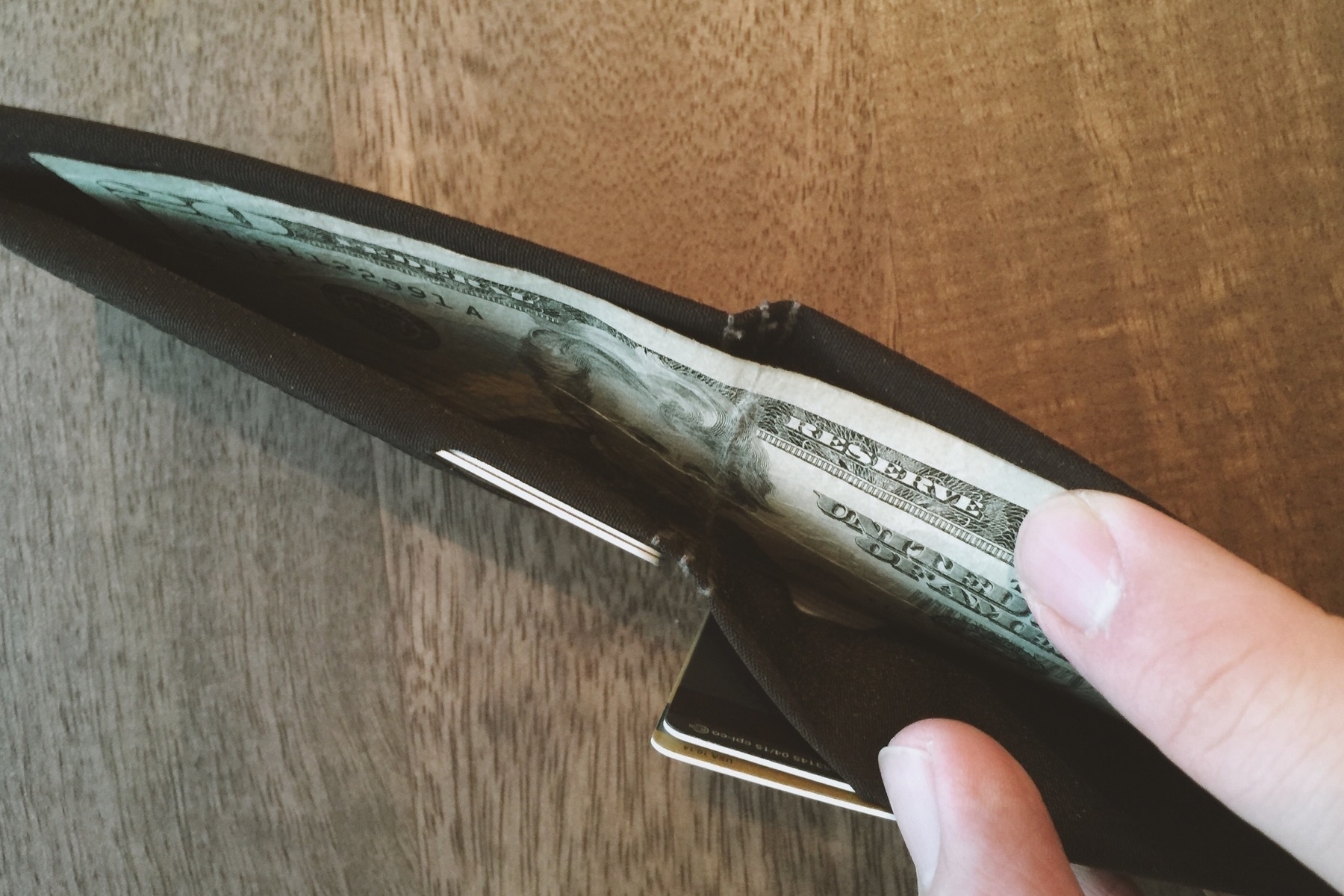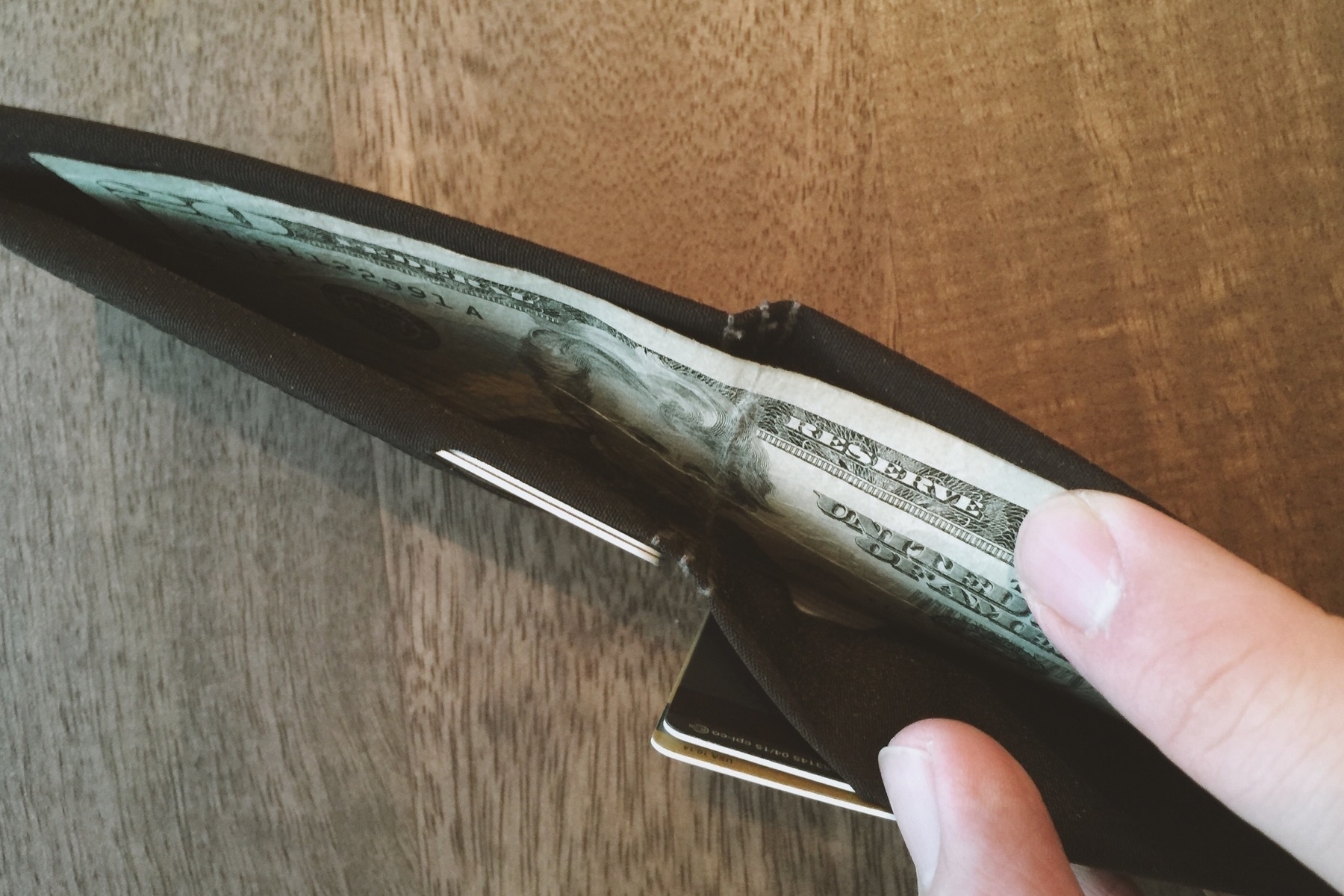 Aesthetically, the wallet is true minimalism. The color is black and without texture, the slot cuts inside have no ornamentation, and the only branding is a small "slimfold" logo pressed on the lower-right inside slot. The only knock against it is the colored stitching, which can be seen along the bifold seam in the back, and along the vertical sides at the opening of the wallet. Using black stitches would have hidden the constructed nature of the wallet, and avoided the distracting, slightly slanted stitch lines. It's a small thing to note, but it does draw away from an otherwise precisely-crafted product.
In terms of utility, SlimFold Wallet claims to be ideal for eight cards, but will hold up to twelve. For context, my current load out for the SlimFold Waller is the following:
Debit Card
Charge Card
Ventra (Chicago Transit) Card
ID Card
Costco Card
Office Security Card (thickest by far)
If you count my office card as two, since that's about the weight/thickness of it, you could comfortably say that seven cards is about the best it can do before feeling like a normal, fat wallet. I hardly ever carry cash, but a few bills inside don't add too much thickness to it, but after several bills (or more cards), the wallet's tolerance for laying as flat (when closed) on a tabletop shortens. (This is really the measure of slimness I'm grading it against, since it's up against non-folding wallets of a similar competitive arena.)
Use
It took me a while to re-acquaint myself with a bifold wallet, as it's a style I hadn't carried in over 10 years. Luckily, the material itself was thin enough for me not to notice while walking around with it in my preferred front-left pocket. Since the size is larger than the Trove, and the cards inside aren't so tightly condensed, the wallet actually feels like it lays flatter against my leg. Without a proper comparison to every bifold wallet in the world, I can say it's the thinnest design for a bifold I've ever seen and used.
Though the wallet is slim and unobtrusive, there is one design choice that is noticeably a nuisance, albeit minor, to every day use: the card slots. It seems so obvious at first, but it actually took a full week of use to pinpoint it: The front panel card slots (the most used ones) face each other across the wallet's fold. Nearly every other bifold wallet positions the card slots upward (for vertical insertion and extraction); the SlimFold Wallet, however, requires you to load them horizontally. This causes an issue with the agility of every day use: you have to open the wallet completely to extract a card. With other bifold wallets, extracting a card is as simple as partially opening the wallet and sliding a desired card out of its slot. With the SlimFold, you need to either lay the wallet open flat in your hand, or fold it back on itself and then slide the card out. Again, it's a small inconvenience, but it's enough of a change in pace that it's noticeable. And while you could argue this is actually a more secure way to keep the cards from unintentionally slipping out, that never seems to be a problem.
The other complexity added to this layout is stacking cards in the slots. The right-side slots are designed in such a way that if you grab the rear card (I store two in each of the "horizontal" slots), it becomes difficult to navigate it back into the rear slot after use since the slots are cut from the same sheet of material. I'll quickly try to do it while I'm getting past a register or bus terminal, and the card will often hit the inseam of the slots (that optically separates the two horizontal slots, when it's really just an aesthetic card slot separator bar of the same material sheet), or just tuck in right behind the first card in its same slot. It sounds inconsequential, but in use, it is slightly slower than top loading cards vertically into the same slot.1
Other than extracting items out of the wallet, its daily use is pleasurable. The wallet is unobtrusive, lightweight, and easily slides in and out of your pocket. The Tyvek® MICRO does not pick up lint or other pocket debris like some elastic wallets do. And overall construction is durable enough for any amount of beating (I'll remind you that they state it's been crash-tested). In summary, the SlimFold Wallet functions as it should -- use it for commuting and paying for things, otherwise keep it in your pocket.
Closing Thoughts
The Soft Shell SlimFold Wallet is available on their website's store for $45; paying $3 more will get you an RFID-enabled version. You can also purhcase it on Amazon.
Pros:
Waterproof
One of — if not the — slimmest bi-fold wallet available
Extremely lightweight
Easy on the eyes
Sleek, black, minimal design effortlessly eludes judgement
Cons
Plastic inserts in the rear make the wallet feel jankier than it is
With both inserts or with fully loaded slots, the wallet does not open as naturally (or wide) as you'd expect for bill extraction
Wallet must be opened completely to extract cards in from panel slots, slowing down a daily task
The SlimFold Wallet is the right choice if you're looking for a slim, tightly constructed wallet with waterproofing and tear-resistant design. If you're looking for sleek, fast management of cards, I still recommend the Trove as the go-to slim wallet.
Update (April 11, 2016)
I received word from the manufacturer that they are planning to revamp the packaging, addressing my initial concerns regarding first impressions with basic plastic wrapping.
They also have been sampling a version of the black wallet with black stitches, which they plan. To introduce soon. This will alleviate visual distinction of the stitches, contributing to an overall seamless integrity.
Lastly, I misspoke about the material used in mine (and have subsequently updated my review accordingly). SlimFold wallets come two different materials:
The one I reviewed was the Soft Shell, which is the thicker of the two but provides more durability.
Lastly, while the one I reviewed does feature the inside slots open towards the center (making them more secure, as I had mentioned), there is also a model that features vertically open slots to slide cards out the top.
Full disclosure: I was given a review model of the MICRO Size Soft Shell model from the manufacturer; this gesture did not impact my perspective on the wallet in this review.
---
1: You also run the risk of having both cards facing each other slide out and cause problems in closing the wallet itself (because they slide out over the inside fold). Again, minor issue, but vertical slots may have performed better.

↩