Growing up, a summer seldom went by that didn't include copious amounts of steaks, hot dogs, and burgers sizzling on a propane-powered grill out on the deck. My Dad was a fastidious griller, and those afternoons or evenings when grilling was our main meal, it served as fun break from the usual stove or fridge-spawned dinners.
It's been years — well over a decade — since I've been able to truly grill after my move to Chicago. My roommate/buddy and I actually bought a smallish Weber grill back in 2013, but it was dinky and powered by a camping-sized propane canister. Now, having just moved to a new apartment with a fairly large deck just this past month, we lucked out to receive an early wedding gift from my parents — a Weber grill. Specifically, we are talking about the highly-reviewed Weber Spirit E-210. The next week was very exciting.
It's worth noting that about three days into moving into our new place, our unit's stove exploded. We'd been preheating it for a meal and things went haywire (General Electric should be ashamed of whatever model was installed at our apartment — the model number was burned almost completely off, so I can't publicly slander them as accurately as I'd like). So as you'd expect, we were hankering to fix something heated to eat. Enter: the grill.1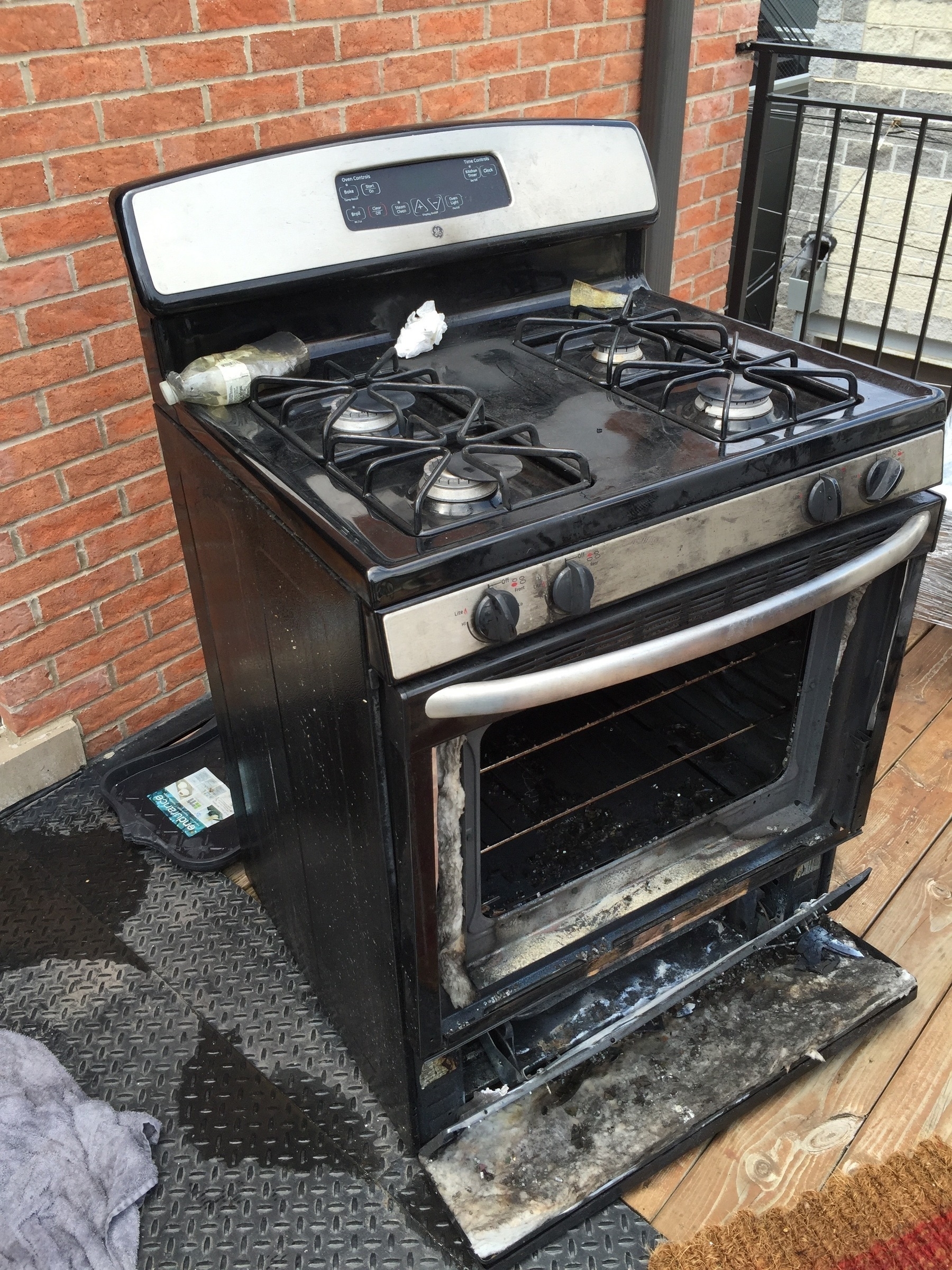 My Dad had it ordered at the Home Depot not too far from my apartment, so I took the car over one weekend and loaded that sucker in the backseat. Amazingly it fit laying horizontal in the backseat, pre-built at Home Depot (which I'm thankful for, because I probably wouldn't have had the patience to put it together the next day). I had to leave it in the car overnight anyway, because I needed Ashley's assistance getting it out of the backseat and up the two flights of stairs to our deck. This, of course, happened the next day.
Once this whole thing was set up, it was fairly straightforward getting it to work. The only concern I had was hooking up the LP tank. For some reason, the first tank I had challenged me with a faulty valve (the thing wouldn't turn to open), so I had to return it to Home Depot for one that worked. And it did.
Design & Function
Designed for the space-conscious, the Weber Spirit E-210 is a great fit for tight spaces. While our deck is fairly large, I can't say the next place we rent (or buy) will have as spacious a layout — this grill should fit snug into almost any city deck. It comes with two metal side-tables that fold down (making it even more compact). For reference, it measures 45½ H-by-50 W-32 L-inches. Two top-ported linear burners output 26,500 British thermal units (of which, I'll admit, I know little about), but it does quickly heat the 360 square inches of cooking surface area. And since we've already had people over to grill with us, I can say that the cooking surface accommodates meat and veggies for 3-5 people.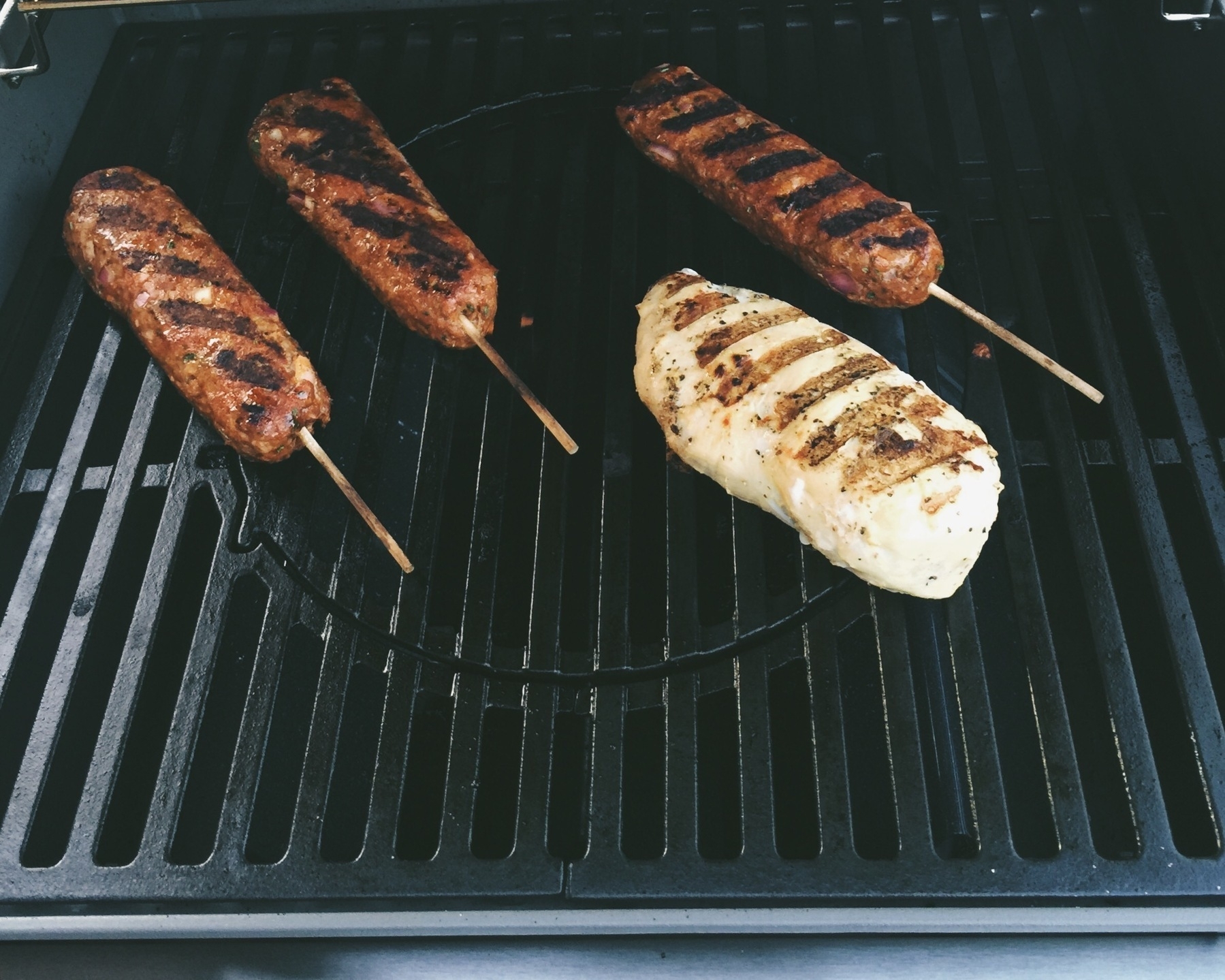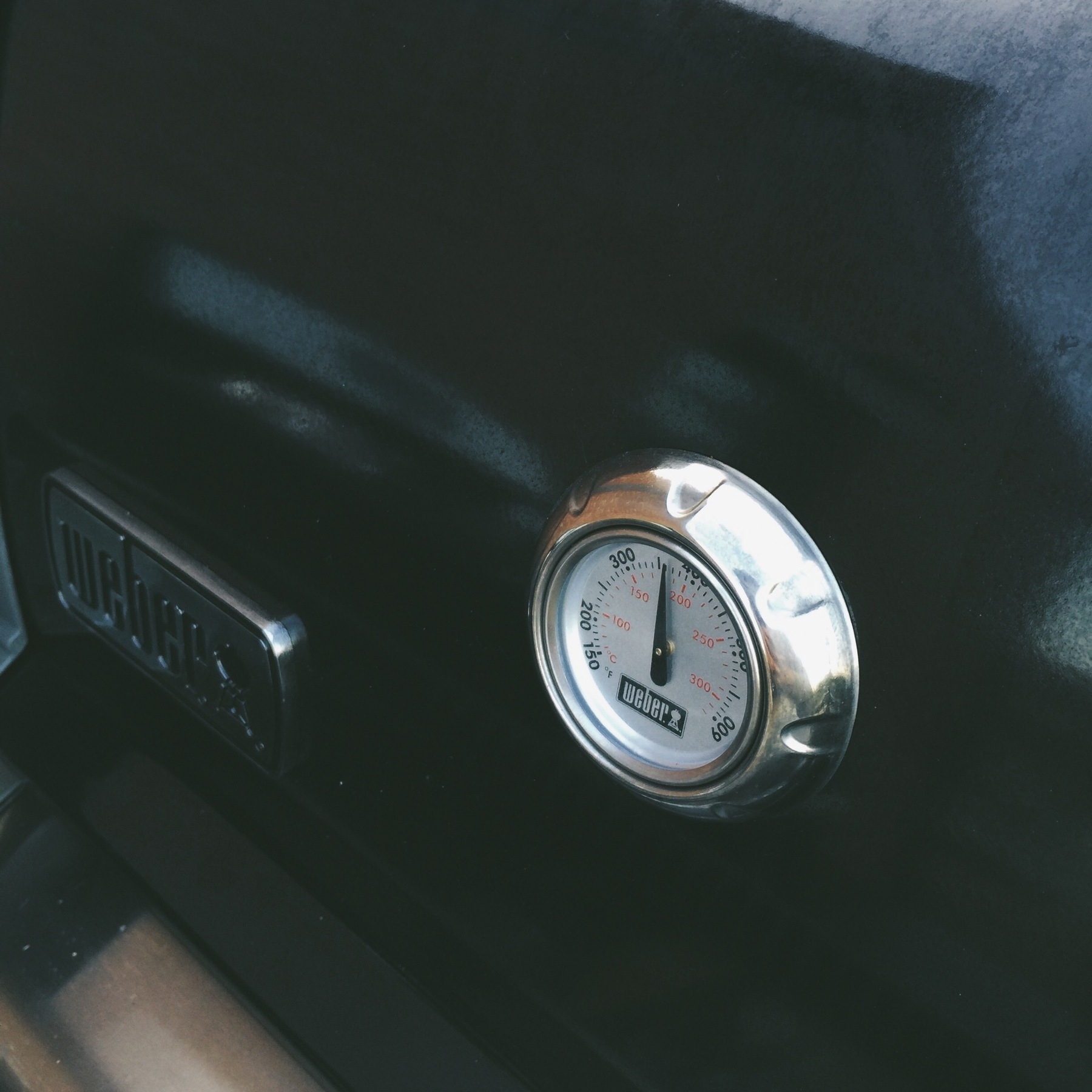 The controls are deceptively simple. Twist the left knob to kickstart the crossover electric ignition (which does require a AA battery, included with the grill), and flip the second knob if you want to crank the heat up for some high-degree cooking. While I haven't pushed it to the limits, I've heated it fairly hot at around 475 degrees, and it only takes a few minutes to reach that cap. The porcelain-enameled, cast-iron grates are very easy to clean with a steel-bristled brush, and the middle center grate pops out with ease. Weber includes a cast-iron pan to replace it if you're in the mood for cooking anything inside it (like cast-iron pizza or veggies), and there's even an add-on pizza stone if you're ambitious. There are some neat additions to this grill, though how neat is hard to say since I haven't used any other grill. Weber has what you could call burner shields (they call them Flavorizer Bars) which sit like long pyramids over the burners and prevent food drippings from sizzling directly on the flames. The bars also allow for close proximity smoke to raise up right under your burger and hot dog meat to, I guess, simulate a charcoal-like flavor (hence Flavorizer). Who knows how gnarly this is — all I know is that you make a mean burger on this thing, and sure, it takes kind of charcoal-smoky.
Some other nice details:
The propane tank succinctly fits under the grill in a - chamber, which comes with a grated cover to make the whole grill look nice and clean for visitors
The propane tank sits on a cubby that gauges the remaining amount of propane, which is useful for knowing when to fetch a replacement
Hood-mounted thermometer


Overall Thoughts
I can't complain about anything related to this grill. While I don't know too much about the material build of it (I've read that it is primarily made of enameled steel, something "Weber is very good at"), but based on using it almost every single day for two weeks straight (remember, no stove!), the thing hasn't stuttered or disappointed once. As usual, I'll probably update this review in six months or a year to check in again (included its winter use in Chicago).
If you're scouting for a compact, powerful little grill, the Weber Spirit E-210 won't let you down.
Details:
Product Type: Weber 46110001 Spirit E-210 Liquid Propane Gas Grill, Black
Product Dimensions — 32 x 50 x 63 inches
Item Weight — 119 pound


We did, finally, get a new stove installed, but about 30 days later. Thanks for the long delay, landlord. ↩︎