Pioneer has been building a special materials series of wallets since 2016, which is right around the time minimal wallets were hitting their stride. This was apparently a year before Trove released their seminal ultra-thin stretch/leather wallets, which have been a preferred champion for my usage over the years. But the material, thinness, and a year of COVID-19 (lack of need in using a wallet that can accommodate a lot of cards) had me tempted enough to order the Molecule Card Holder version from Pioneer. And I'm glad I did.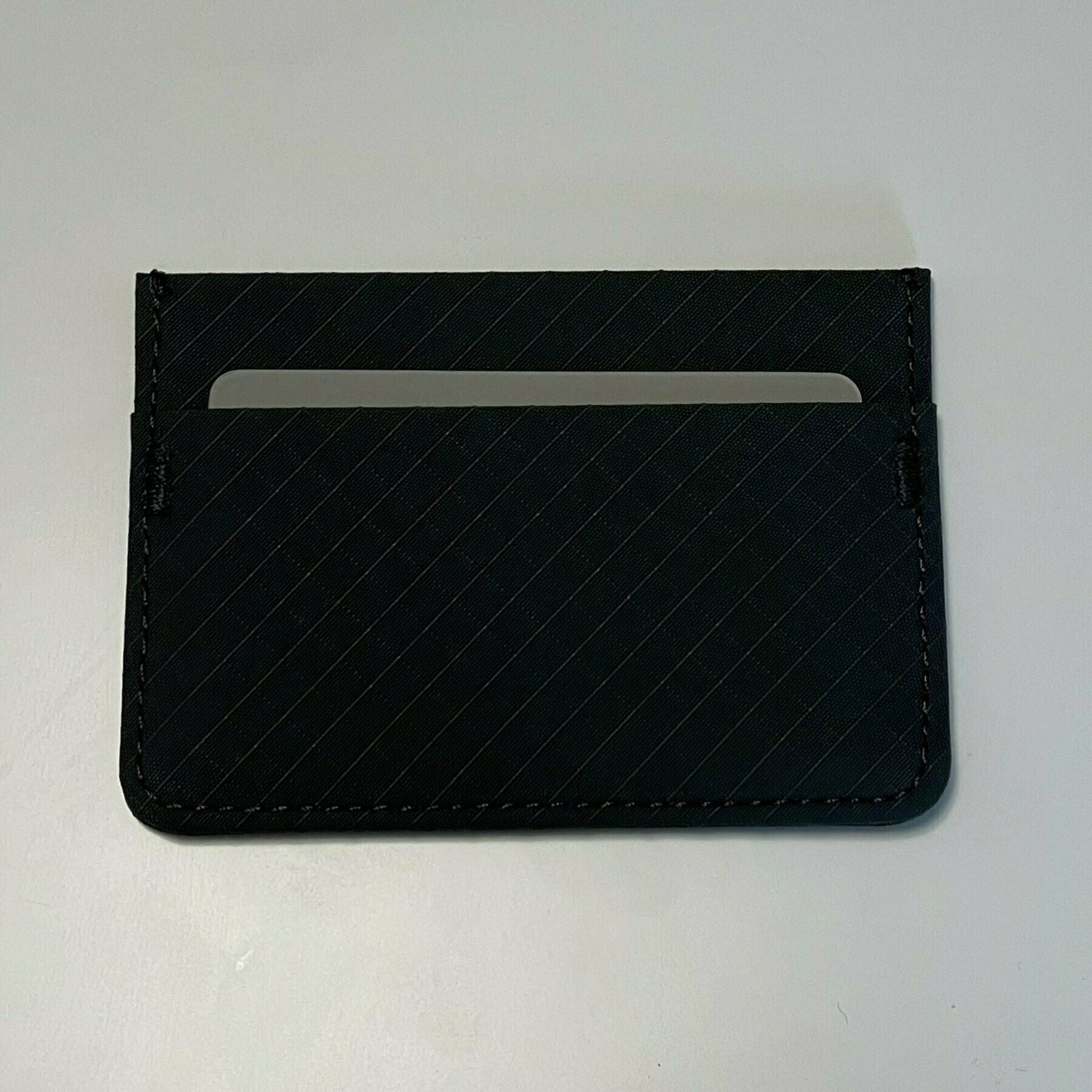 The premiere technical material blends that Pioneer uses for every one of its diamond-patterned wallets are the elite differentiators:
10DX
DX10 is a their "custom blend of UHMWPE (ultra high-molecular-weight-polyethylene) and nylon"
The build here is a very strong ripstop, with a notably tight weave that gives off an agreeably slick finish
The entire wallet is, as a result of this, waterproof and machine washable
Pioneer claims that the wallet will not noticeably "fatigue or age" for the first several years due to its manufactured process
Available colors limited to onyx, black/white, and blue/white
3PN
For the wallet I ordered, this is the materials blend I got with the Slate color (this blend is also available in Evergreen)
This is a three-ply nylon ripstop fabric, featuring a DWR (dirt and water resistant) coating
Since 10XD cannot be dyed in solid colors or achieve a fully dull/matte finish- 3PN helps us maintain our standard of durability and longevity while allowing us to offer limitless solid colors and a matte finish
As with 10DX, 3PN stronger than other wallet materials (e.g., leather), it's waterproof and machine washable, and "woven to last a lifetime"
All of Pioneer's wallets have a 10-year warranty (which is incredible seeing as how many wallet companies don't bother with such a thing, though it pales next to Saddleback's 100 year warranty). Part of why they likely offer such a warranty is that their wallets use a stitching methodology they call FutureForm, which is a heat-fusing tech that "helps to reduce stitching and give [their] wallets a premium leather-like hand feel." It's geniuine, and it makes a huge different compared to other stitching in technical material wallets out there.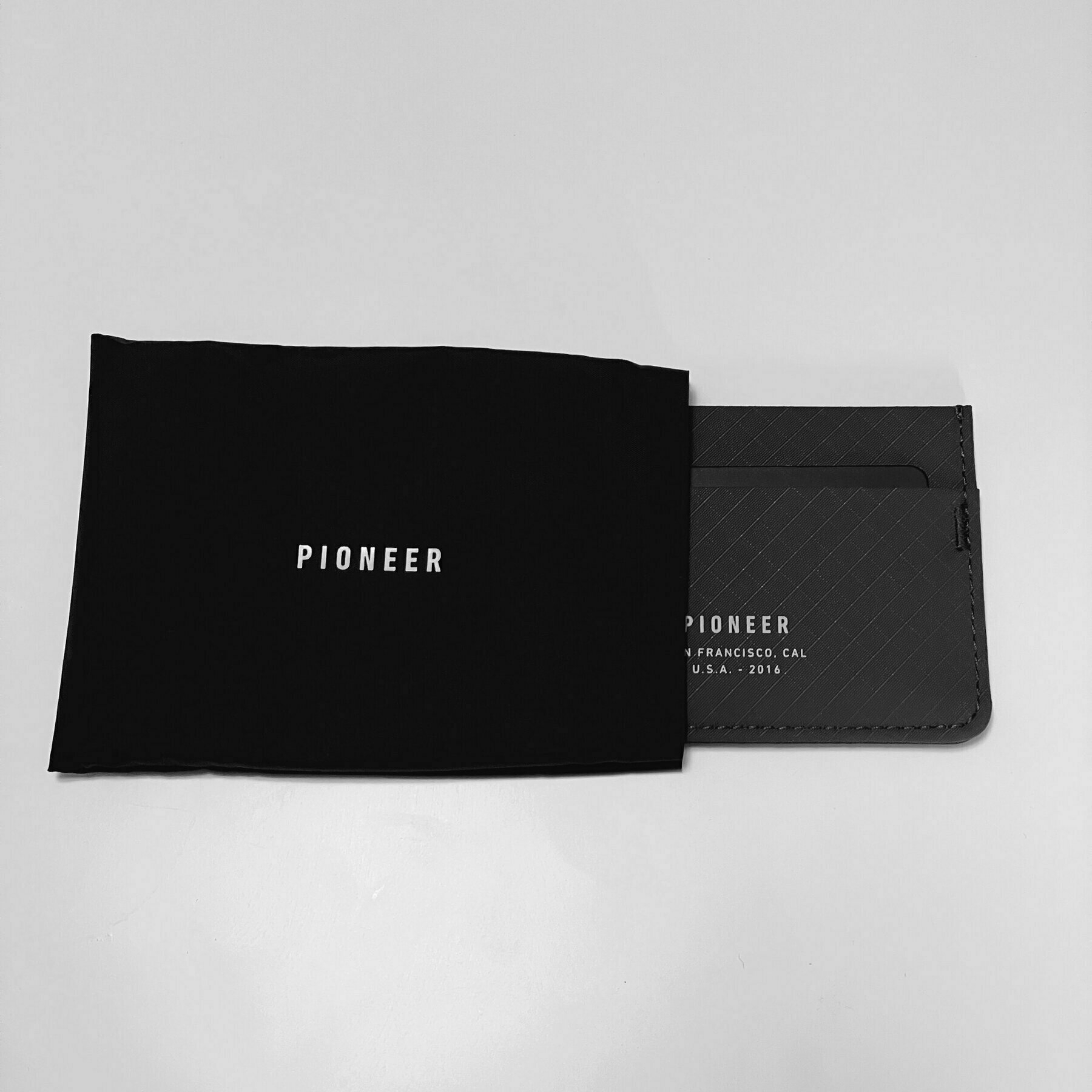 Overall, there isn't much to criticize. The everyday feel, thinness, and holdability is phenomenal and enjoyable. The three pockets (two short cuts on the outside, one primary deep pocket in the middle) are more than adequate for the number of cards I typically have on-hand in a modern, post-COVID environment (e.g., credit card, license, and debit card -- maybe a couple bills). It barely increases in girth when this load-out is in there, though it will of course get thicker the more you put in. I'd make the argument that this wallet could have a smaller overall footprint -- as you can see in the accompanying photos, it's a good 2cm larger than a typical card footprint. Perhaps this is by design, as a single folded US bill fits neatly into the main middle pocket (and would not/does not on wallets that conform to the exact size of a credit card, like the Trove). But even at its slightly larger size, it still pockets with ease and with minimal heft.
Without anything loaded in, the Molecule Card Holder measures 107mm x 74mm x 4mm, and weighs in at just 28 grams. Pioneer claims this one will hold 4-6 cards comfortably, but they have other wallet options for greater quantity needs. It's at once unremarkable to look at, with mostly hidden features, and the diamond-patterned shell is subtle at best on the 3PN color variants. But its shape, thinness, and extremely lux durability once touched immediately change your perspective.