We only had one opportunity to try Jamie Malone's Grand Cafe in Minneapolis, a well-regarded spot steeped in French culinary expertise and aesthetics. As I noted back in August 2018, we "had a smorgasbord of stuff, including tartar, pate, mussels (best of the choices), a spinach salad, and diced scallops, finishing with a chicken liver donut and a bourbon moist bread with cream, plus, of course, glasses of amaro".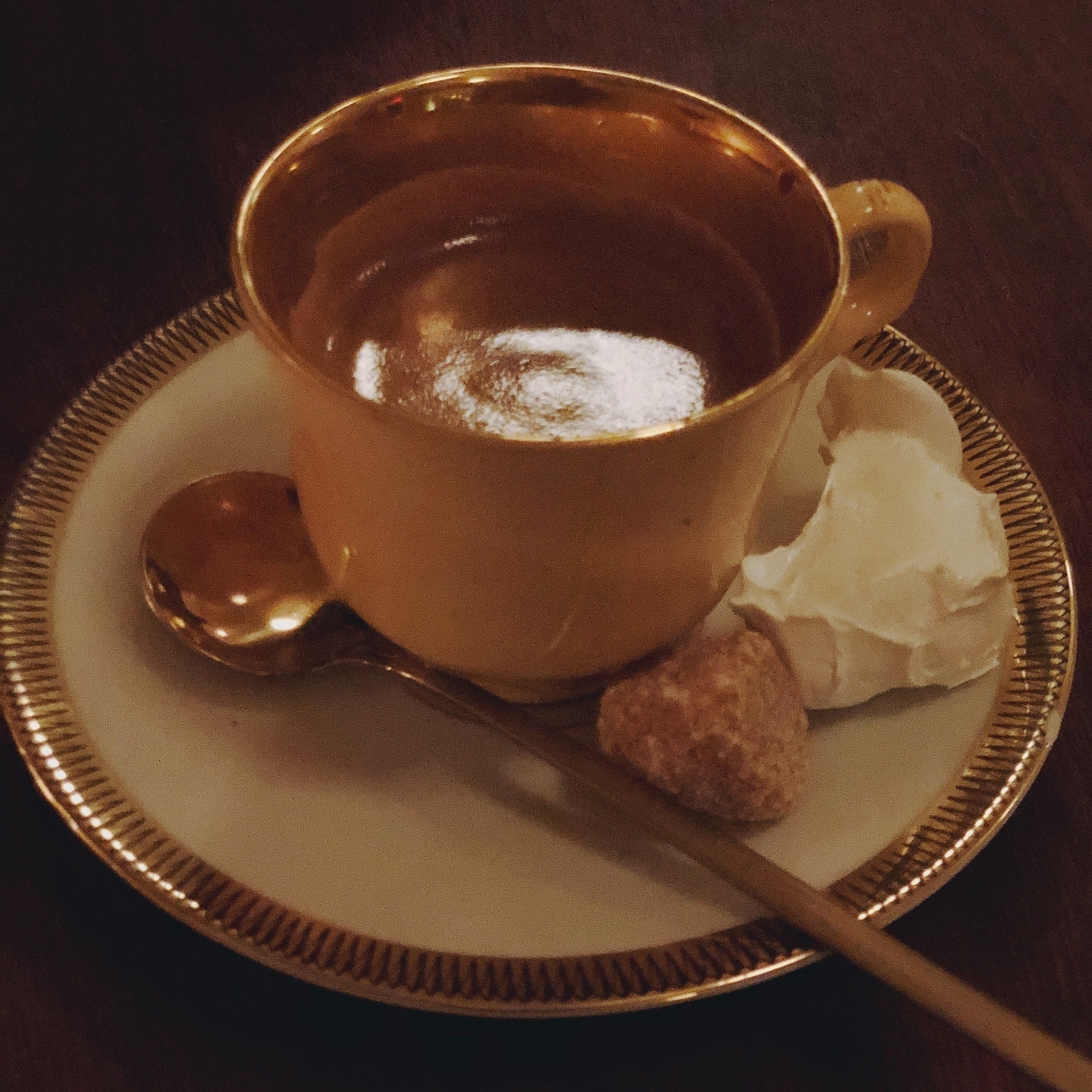 And I took a shot of this parting espresso cup, too lovely not to remember.
In 2020, however, Ms. Malone closed down Grand Cafe. While I would have loved to try it again, she had a much more grandiose idea in mind, and some time afterwards, out of the pandemic bloomed Paris Dining Club, a Twin Cities-only meal delivery subscription based on an eclectic, opinionated prepare-at-home model. The menus, the attitude, the vibes all hit the right mark, and we subscribed to at the time what was called "date night" (enough food for two people), which has since transformed into the Grand subscription tier.
Pick your preferred Friday of the month, and delivery of a seasonal three course dinner arrives at your door for a decadent evening at home. This isn't Blue Apron bullshit, this is a meal to cherish. Sure, we're learning the ropes on a few classic French dishes (and don't even get me started on the epicurean butter hacks they sling), but Ms. Malone and team do the heavy lifting here, and at most, you're reheating a few things and splashing the pre-prepped sauces or accouterments atop a heated set of duck thighs or clay-oven fish (yes, that one was fun).
Paris Dining Club supplies crisply printed menus, instructions, a music playlist, and usually wine pairing notes. You can also add on a la carte supplementals like additional plates or even flowers to really set the table right. There's nothing to complain about, and everything to enjoy.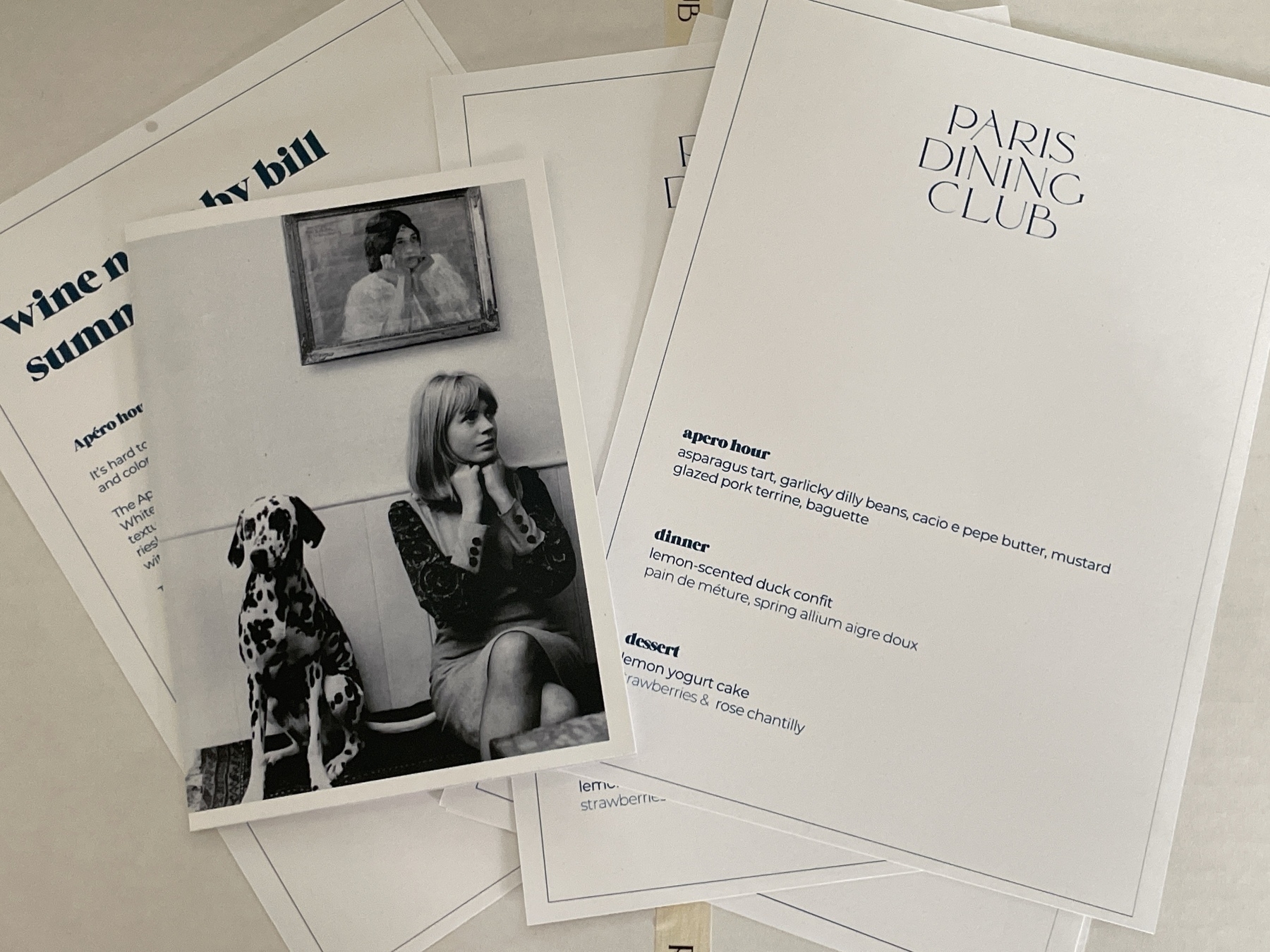 So what's a meal like? We just enjoyed the May one, which included the following:
Apero Hour: Asparagus tart, garlicky dilly beans, cacio e pepe butter (goddamn was this good), mustard glazed pork terrine, and baguette
Dinner: Lemon-scented duck confit, pain de méture, spring allium aigre doux
Dessert: Lemon yogurt cake with strawberries and rose chantilly (don't judge me for saying this, but... it was an amazing strawberry "shortcake-like" experience)
This one also came with a nice floral gift that we set up center stage at the table. Very nice, very stylish.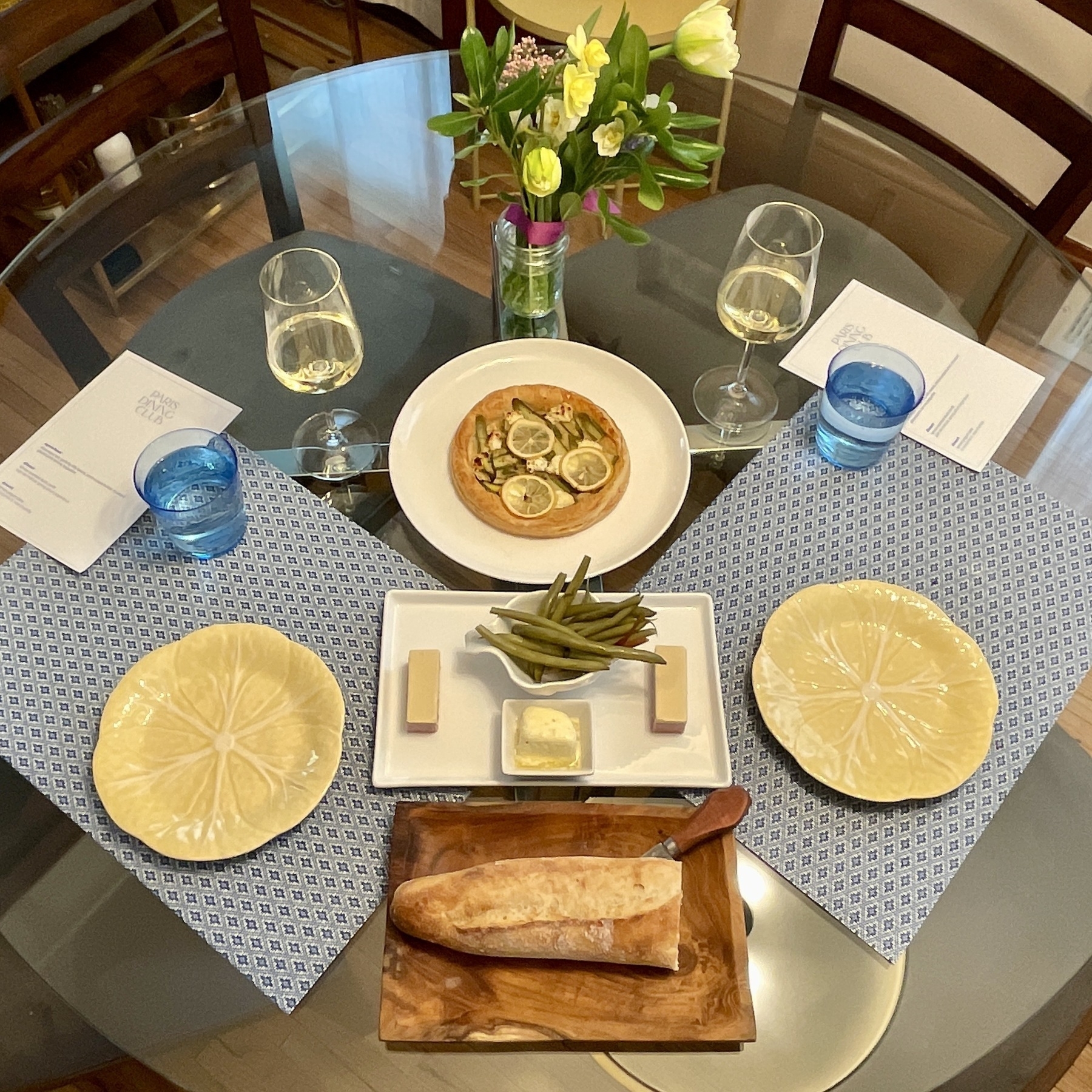 Most recently, Paris Dining Club has also launched a digital supplemental (included on a few of the delivery tiers) called Butter Club. As they note, this is a:
A monthly compound butter recipe & simple dinner recipes released weekly with demo videos by Chef Jamie Malone. Our recipes won't require more than 5 ingredients & 15 minutes.
Well let me tell you, the recently featured pepperoni compound butter is heaven-sent, and I will be using this for a lot of dishes. It's gaudy and godly.
I also dig how this type of digital "cooking meal" club is different than other try-hards out there -- it's anchored against the butter as a center of gravity for the dish tutorials, and it's fun to learn a core ingredient that can augment an endless number of dishes, inside and outside their purview.
Overall, Paris Dining Club has come out kicking with a distinct service that we are definitely keeping running in this household, and encourage any Twin Cities residents at least consider to try for a few months (or, perhaps, the Summer Series). Besides, it's so much better to support local business and local food ecosystems than go with the big national solutions, especially when it's so thoughtfully rendered.