I picked up Aer's flagship product, the Travel Pack 2, last year in preparation of work travel ramping up (note - that link goes to the just-released Travel Pack 3, as they just retired their second version of this bag). Nearly two years into the pandemic, but with waning restrictions (alas, pre-Omicron thinking at the time), I figured I'd want an even more streamlined travel operation than I had prior (usually my Evergoods CPL24 paired with a Goruck Kit, or if I'm ambitious, just the Evergoods CPL24).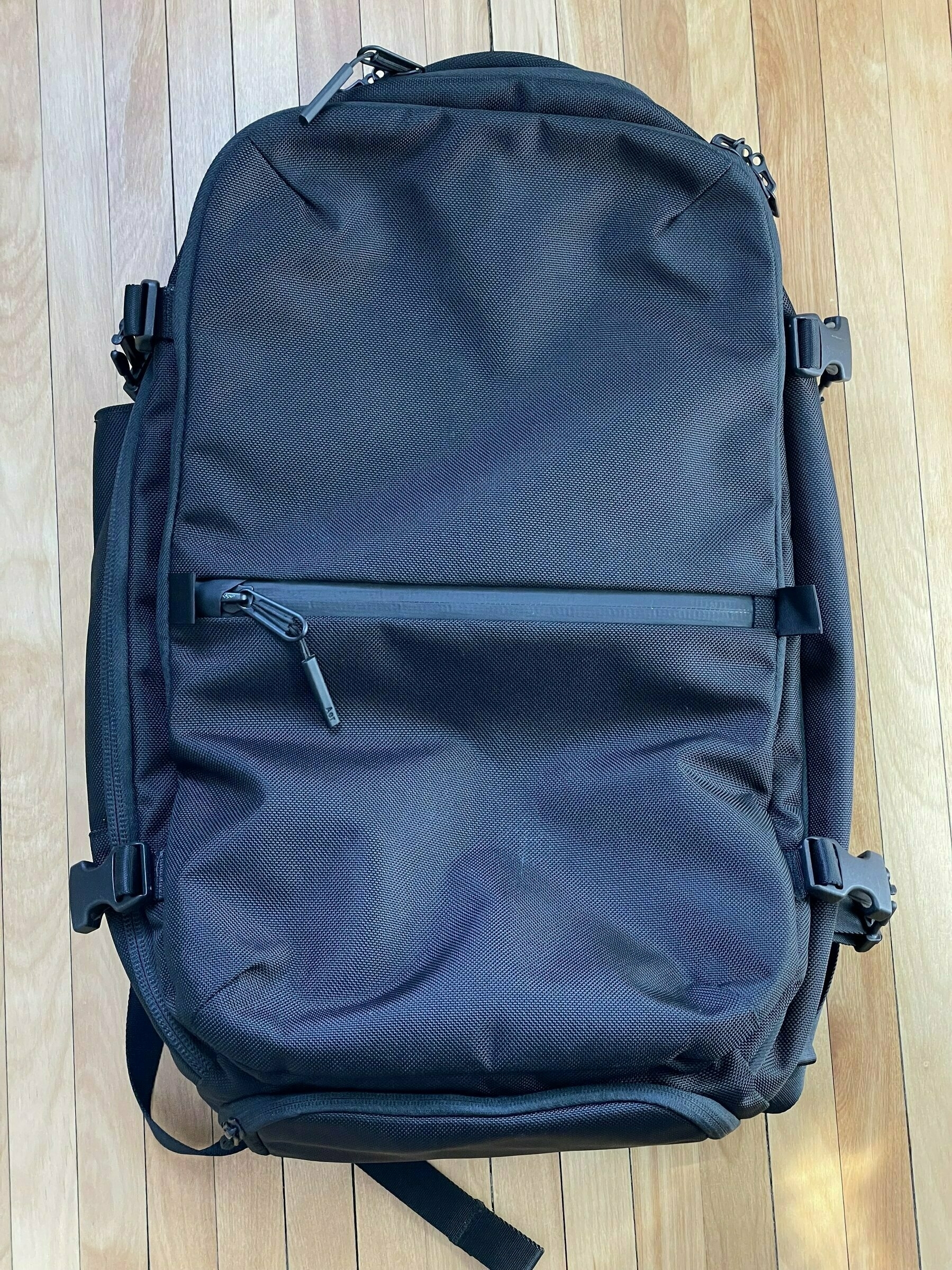 As usual, I spent an inordinate amount of time researching my options — and there are a shocking number of options. No longer is the technical material/hardcore design/one-bagging niche a small industry anymore; from my pattern of research, it's massive. There are dedicated bloggers/vloggers, endless kickstarter projects or post-kickstart projects that grew into huge successes, there are niches within niches, and there is shortage of intricate viewpoints on what the preferred array of attributes should be, from size, capacity, opening style, pocket placement, zipper pulls, weight, shoulder strap padding, grab handles/locations, on and on, it's overwhelming. I knew this. You probably knew this. But I continued to research anyway.
Good news, I have a few perspectives on this subject, and in particular, the subject of this review — I selected the Aer Travel Pack 2. Curiously enough, about 6 months later, I'm selling this bag to double-down on the Evergoods CPL version 2, but let me not get ahead of myself. The Aer Travel Pack 2 is an excellent, satisfying choice for being a de facto one bag solution for travel. Let me tell you why.
Capacity
At 33 liters, this is a few liters short of many similar-sized "carry on" backpacks in the space. Usually you see 35L or 40L. 45L seemed to large, and even 40L was pushing it. 33L is a sweet spot. If you can't set yourself up for a week's travel within the confines of 33-35 liters, you're doing it wrong.
I comfortably fit two loaded Tom Bihn shoulder bag packing cubes, a Peak Design small travel cube, Tom Bihn grab bag (for toiletries), a tech kit, extra batteries, notebook, hardcover book, MacBook Pro, and iPad 11 in in there without a problem, and had plenty of room to cinch the bag with its compression straps. This is my usual 3-4 day load out for work travel or personal travel (in autumn/winter months, given weather conditions), so if it can be accomplished in the bag, we're good. As part of this experiment in using this larger bag, I also had been packing a Tom Bihn briefcase rolled up so I could deploy as my laptop bag upon arrival. This system works well, since you do not want to lug the Aer around as your daily bag upon your destination — it's too big for that.
Material & Build Quality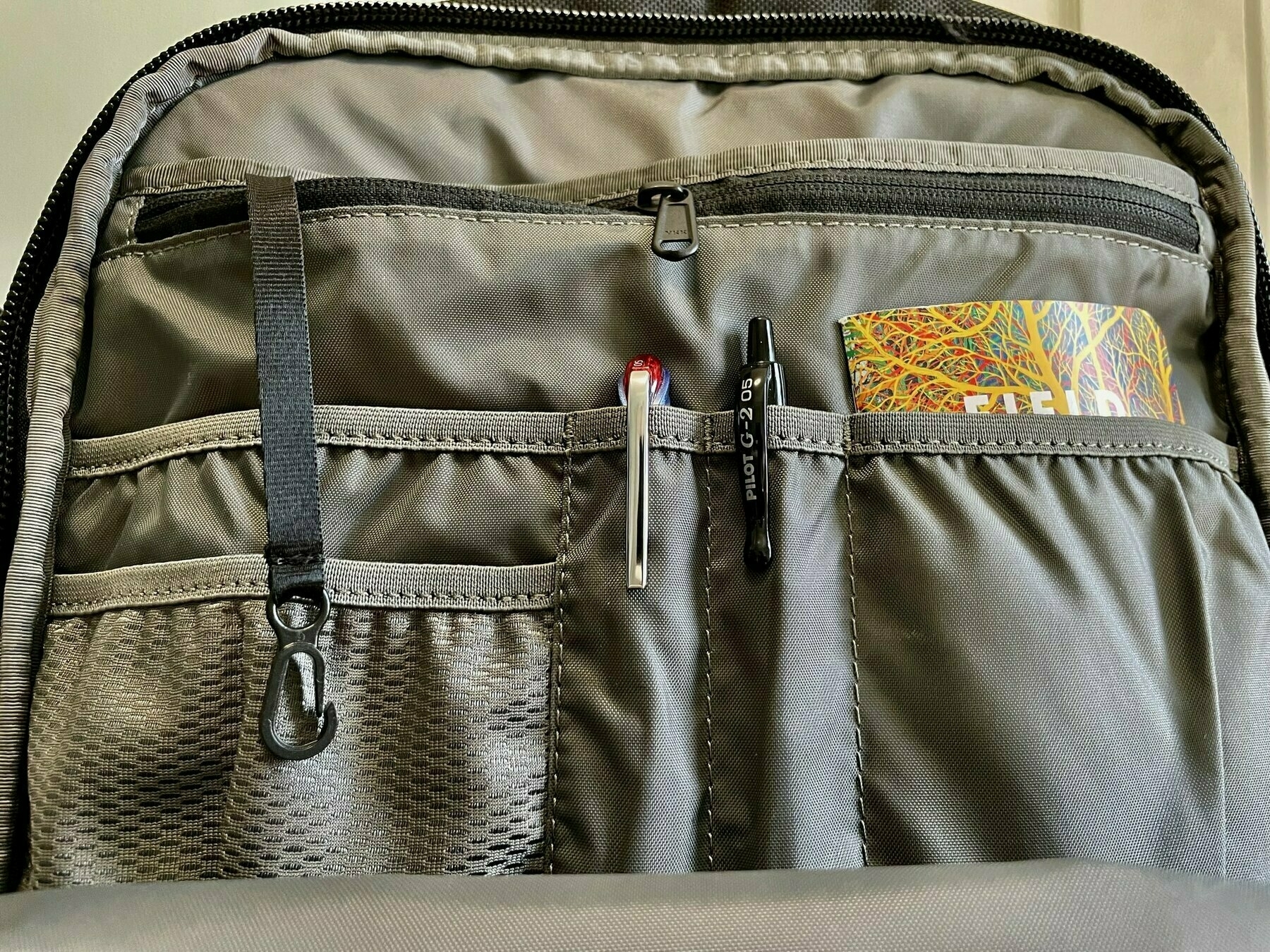 This is an Aer bag, so you likely know what to expect if you've seen or used their hardware before. It's a very sleek, slick, tough ballistic nylon exterior that deflects lint, pet hair, and debris of any kind. Inner materials and organizing pockets are the same cookie-cutter layouts and style from other Aer bags, but that isn't a bad thing -- it's functional. And there are plenty of pockets and places to stash your stuff.
The best, most thoughtful pocket is the top "access" one right next to the primary handle. The worst, most disappointing pocket is the outer-lower pocket that defines the middle zipline when facing the bag. Another disappointment is the pockets lacking their own capacities. Once you have the luxury of pockets offering individual capacities in Evergoods products, it's hard to adjust to anything but.
Lastly, the zippers are chunky YKKs, and they rule. Aquaguard ziplines on most of the main openings.
Clamshell & Compression
The bag opens clamshell, like all good travel bags (or honestly, EDC bags). So, like a suitcase, if you've never used a bag like this before. It's the best way to load and organize your carry. That's all.
This bag also has compression straps to either shrink the bag for lighter loads (dimensionally), or to shrink down a fully loaded bag. This is both a blessing and a curse: the straps look great and work great. They also block the primary zipper for the body of the bag, requiring you to unclip the straps every time you want to open the main contents of the bag. They do not block the laptop backpanel pocket or the slimmer external front pocket, though, which is a nice design touch — this lets you grab pens/books/notepads/computer/whatever you store there that you might easily need access to while on the go and not at your hotel yet.
Carry
The Aer Travel Pack 2 carries like a breeze. It's very cushy, airy, and uncumbersome for most medium-to-heavy loads. I never tired of having on my back, and didn't bother buying the harness straps (though I do realize it's the smart thing to do for heavy loads). I'd say it sits normally on your back — you don't need to ride it high or do anything special. Just toss it on your back.
Final Thoughts
I really enjoyed using this bag. If I wanted to continue going down the route of one-bag, one trip, screw the luxury of more than 33 liters of space, I would never stop using it. But the siren call of a different kind of load out kit for traveling overrode my enjoyment of the one bag dream here. I have slight regrets in selling it, but at the same time, have no restraint in telling you that it is worth getting if you're stuck on deciding whether to go with this or the plethora of other (probably also good) bags out there, like Peak Design's 45L Travel Bag, the Pakt Travel Backpack, the Nomatic 40L, Evergoods Travel Bag 35L, Tom Bihn Aeronaut/Techonaut, or the Minaal Carry On. This is elite bag culture bullshit, sure, but I did my homework, and there you have it.