The Slimmest Wallet Pursuit
Back on my bullshit again.
I've been searching for, putting through the paces, and reviewing wallets for over a decade now. And I'm restless again, because someone must be improving the design to meet the holy grail of "nearly as small as the cards that go in it, with a smidgen of room for the occasional few bills".
Right?
Well, there are many that come close.
But there are only a few that pass the goal line.
Considerations
Let's cut through the thousands of words with which I'd typically pontificate because no one has time anymore.
The following facets were primary considerations:
Material: Built with strength and longevity in mind. I prefer non-leather wallet materials, which ruled out brands like Bellroy and Saddleback
Size: The aspiration here is minimal footprint inside any carry pocket — wallet bulge is disgusting. Hence the wallet shouldn't exceed the dimensions of a card by much.
Functionality: When you get into this narrow arena, functionality becomes a consideration because these wallets are incredibly minimal, and some require pull-straps or other clever ways of extracting contents.
Wallet Recommendations
Here are the wallets you should be thinking about if you share a similar philosophy about the everyday carry essential: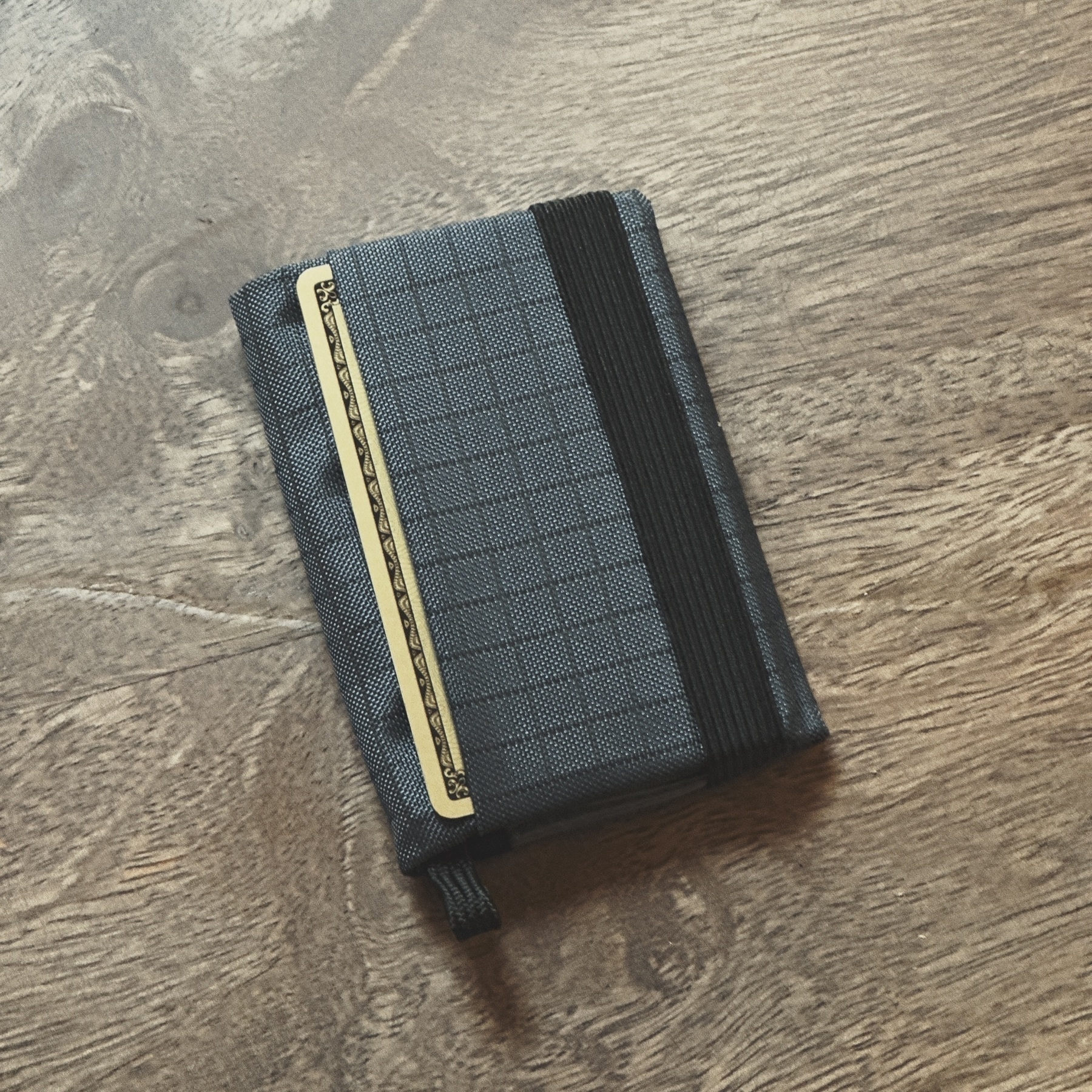 Tom Bihn's Nik's Wallet: This is what I'm currently using, and it's been a steady champion for years — a bifold miracle that's a pleasure to use. No degradation in the fabric or materials, including its bifold strap, and it loads a handsome 5-10 cards in it, including several metal credit cards with the ability to stash cash all while conforming to a near-card-sized dimension. Incredible. Plus the fabric-feel of halcyon (or their ballistic nylon options) sings in the hand.
Trove Swift: I've gone back and forth with this wallet for a similar number of years, and it's absolutely stellar. True, some of the options for it include leather, but I recommend going with the carbon fibre. It has three slots snug against an Italian elastic band, so this thing is literally the length of a credit card (the slimmest you will ever get). It also features a rad little pull strap that quickly fires out your cards from one of the three slots. It's fast, it's barely visible in a pocket, and it lasts.
Peak Design Mobile Wallet: Lastly, this thing. It offers something neat for those who care: it comes in a stand variant (small flap that flips open to provide a stand for your phone), or without. Either way, this one is different in that is also magnetizes to your iPhone with MagSafe. Whether you care for it or not, this is still actually a sleek, small wallet with an unique fold-top design that, upon opening, pulls up and outwards to reveal your stack of cards inside. It's less organizable, and the material is the lousiest of the three, but it still hits the mark.
And that's it. Look no further than those three. I'm not making any affiliate fees off this, so it's my honest opinion. Take with it what you will.
What did I miss?
A few considerations that make the rounds or that I've personally tried in the past that just don't cut it:
Thanks for reading. Bye.